Armed Forces Day 2017, Liverpool
Photographs by Patrick Trollope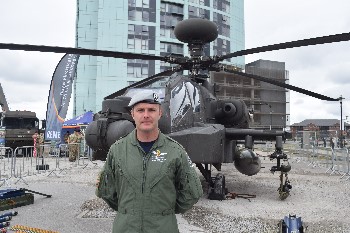 ON Saturday, 24 June 2017, the nation's focus was on Liverpool, for Armed Forces Day 2017. The event was combined with the Mersey River Festival, which ran on Sunday as well.
Saturday's activities started with a large parade of Service men and women, both serving and veterans, along with cadet force members. This large parade set off from the steps of St George's Hall, accompanied by a flypast from an RAF Typhoon (Euro Fighter) whilst on Liverpool Pier Head, a gun salute was performed by a local army unit. As the parade moved through the streets of Liverpool, VIPs assembled on the banks of the River Mersey, with the Royal Navy's Type 23 Frigate, HMS Iron Duke behind.
The dignitaries included:- the Vice Chief of Defence Staff, General Sir Gordon Messenger, the Prime Minister Theresa May, Mayor of Liverpool Joe Anderson, Liverpool City Region Mayor is Steve Rotherham, and other local mayors and officials from the armed forces.
Taking the taking the salute and representing the Queen was Prince Edward, Earl of Wessex. The Royal Salute ending the parade coincided with a flypast of the RAF's Red Arrows Display Team. Following the parade, Prince Edward, headed over to some of the displays, which included an Apache Helicopter, to meet veterans and service man and women, before leaving. You can watch footage of the Salute, and the Royal walkabout within this week's issue, in our photographic coverage.
You can also see an interview in our photographic coverage section, with a Wirral Apache helicopter pilot, Mark Bowker, 32, who landed and took off in the amazing helicopter from the Pier Head. He described this as 1 of the most amazing things he has done since he joined the Army.
Then came the Dragon Boat Racing, on the docks, with teams from Cammell Laird's, HMS Iron Duke, local Army, Navy and Air Force Cadets taking part. You can watch our footage of this on our Facebook Page.
Just after the Dragon Boat Racing, the Prime Minister left, also walking through the display area on her way out of the event. She also stopped at times to talk to service personnel and veterans along the way.
At round 2pm, eyes were again looking up at the sky as the RAF's Battle of Britain Memorial Flight flew over the River Mersey, performing a short, but very well received flypast.
As lots of activities took place on land, it was extremely hard to get around and see it all, due to the huge volume of people who came out to see this spectacle, which honours those serving and those who have served in our armed forces. Throughout the day there was street theatre across the Pier Head and food concessions and bars throughout the site, keeping young and old entertained.
At 4pm, the Royal Navy Wildcat flypast took place, again over the Mersey. The day ended with Beating Retreat and Ceremonial Sunset by the Royal Marines Band from the area next to Cruise Liverpool's passenger lounge. Did you attend or take part?
We would love to know what you thought of the event and also hear you memories of the day. Please email us to:- News24@SouthportReporter.Com today. To see our 1st part of our photographic coverage of this event, please click on here now. More information about Armed Forces day can be found on:- ArmedForcesDay.Org.UK.
---
All Liverpool City Region travellers advised to plan ahead of rail strikes as Open Golf starts
AS the Open Golf and the worlds sporting legends and media arrive in Southport, Merseyrail Services have issued a warning to all travellers planning to use the trains within the Liverpool City Region. The are now being urged to plan their journeys and check before they travel ahead of strike action, that will take place on both the Merseyrail Network on and Northern Services in on Saturday, 8 July 2017 and on Monday, 9 July 2017, on the Merseyrail Network. Also Northern Services will be affected on Saturday, 8 July, Sunday, 9 July and Monday, 10 July 2017. While train users will be most directly impacted, the whole transport network is expected to be busier as people find other ways to travel. Most Merseyrail services are planned to run every ½ hour, from around 7am to 7pm and services will not stop at some Stations. Passengers are strongly advised to check the Merseyrail website and Twitter, feed before travelling, as it is possible that timetables will change prior to, as well as during, strike action. Services by other mainline train operators will continue to run as normal. Key advice for everyone in the City Region needing to travel on these dates is:-

► Check before you travel... If you're a rail user plan based on current information available, but be prepared to adapt your plans as timetables may change on these dates.

► Rail stations are likely to be busier as a result of reduced rail services. Don't aim for the last scheduled train, get there early.

► If you're not a rail user, you're still likely to be affected as people find alternative ways to travel. Leave longer for your journey and avoid travelling at peak times where possible.

► Bus may be a good alternative, with an extensive network across the Liverpool City Region. Some services will be monitored and strengthened on key routes.

► The Mersey Ferries will be a good alternative if you're travelling cross river, free car parking at Seacombe, for 370 cars, with frequent commuter services running Monday to Friday.

► Cyclists can use valid cross river tickets on the Mersey Ferries.

► Stick to public transport wherever possible to reduce congestion on key routes such as the Mersey Tunnels and roads in and out of the City Centre.

► If you have no option, but to drive, consider car sharing.

► Speak to your employer about whether there is any flexibility in working times or the possibility of working from home.

Said Jan Chaudhry-van der Velde, Managing Director at Merseyrail:- "The Merseyrail team has put together the best possible timetable that we can to provide a limited train service on both strike days. I would urge all our customers to check before they travel."

Sharon Keith, Regional Director at Northern said:- "We are doing everything we can to keep our customers on the move during the 3 days of industrial action affecting our network. We will be running more than 40% of our usual services, but those trains that do run will be on an amended timetable and are likely to be extremely busy. We ask our customers to plan carefully, allow extra time for travel, and to consider whether their journeys are necessary."

Said Frank Rogers, Chief Executive of Merseytravel:- "While rail travellers will be most directly affected, other people travelling in and around the City Region are likely to be impacted. That's why we are asking everyone who travels in the City Region, either on the:- train, bus, ferry or in a car, to plan ahead, check timetables and allow more time for their journeys."

Information about services for yet more industrial action, that is due to take place on Sunday, 23 July 2017 will be published on the Merseyrail website and on here nearer the time.
If you need additional help in planning your journeys call Merseytravel on:- 0151 330 1000.