Blink 182 in Liverpool!
Photographs by Jo Forrest,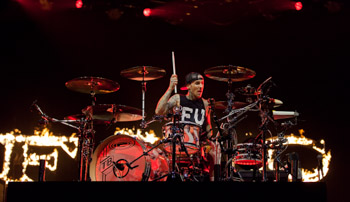 IT'S hard to believe that it has been 17 years since Californian pop punk favourites Blink 182 had their mainstream breakthrough with hit single:- "All The Small Things." A lot has changed since then and, in fact, since the band last played in Liverpool 5 years ago. Unsurprisingly then, as has been the case throughout this extensive UK tour, the Echo Arena, in Liverpool, on 15 Jul 2017, was filled with fans young and old ready for the long awaited return of the pop punk heavyweights.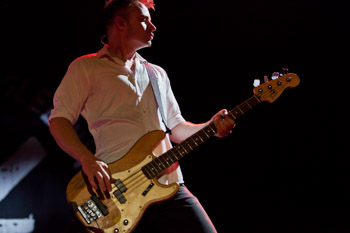 Although in the UK to support recent album:- "California", the band treated fans to a hit laden, career spanning set. Accompanied by a blast of pyrotechnics the 22 song set sees the band open with:- "Feeling This" from their 2003 self titled album. Choosing to open the show with a track from the album that saw the band explore a more "grown up" sound, shows how much the band have distanced themselves from their puerile early days. Oh hang on, what's the behind them? It's the word:- "F**K" in 12 foot high letters, on fire.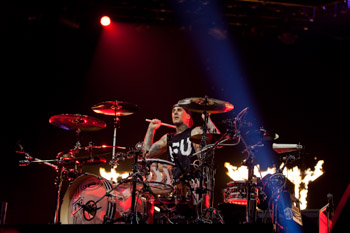 With Alkaline Trio's Matt Skiba now firmly ensconced in the Blink ranks, the 3 piece, completed by Mark Hoppus and tattooed drummer Travis Barker, batter and bounce through their 20+ songs mixing up old favourites like "The Rock Show" and "Dumpweed" with more recent material like:- "Bored To Death."

Predictably:- "All The Small Things" has the Liverpool crowd bouncing like it has never bounced before while the night ends with Travis Barker's son Landon taking over the drum seat and bringing a riotous end to another crazy night in the world of Blink 182.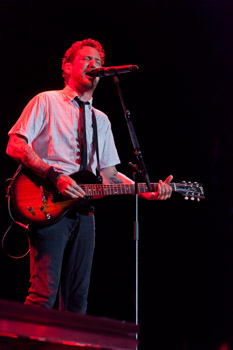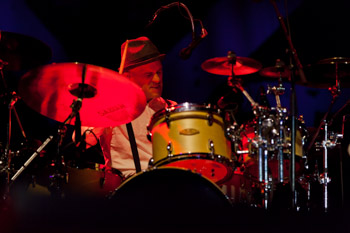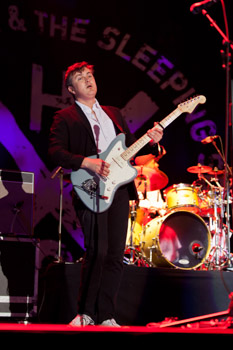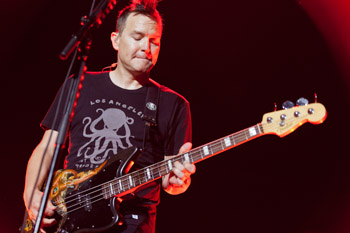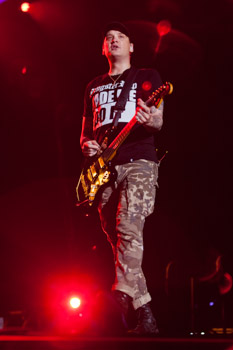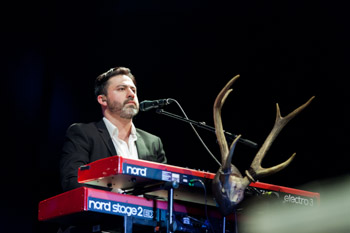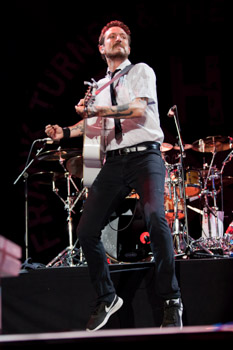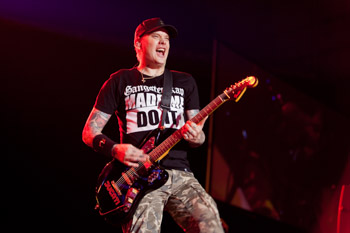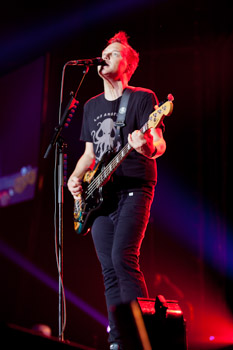 Remember you can order photograpic prints from us. Help us keep this site online. Please don't brake our copyright by copying any of the text or images in this website, even if its only for 'personal use.'

Liverpool and Southport represented at Mr and Miss England 2017
WELL done all the girls and boys who took part in this years Mr and Miss England finals, that that took place at Resorts World Birmingham Vox Centre, on 14 July 2017. Sadly none of our representatives got the converted titles Mr England or Miss England. We are told that 50 ladies and 20 men took part in the glamorous fashion show style event after months of regional heats held around the country.

Miss Southport 2017 Gwen Raby made a fantastic impression and despite not getting into the top 20. The Miss England Group said she did a fantastic job representing Southport. Gwen wants to continue to promote the area and is already looking at ways to help Southport.

We are told that Miss Liverpool City Region, Elli Wilson, has made a fantastic impression for the area. This the 1st time the title has been officially awarded and Elli was fast tracked into the top 20, out of the 50 contestants, who took part on the night! Elli, we are told by Miss England organisers, impressed the judges with her promotion of the Miss England brand, on social media and via many other media outlets. As a result she will now be the brand ambassador for Billion Dollar Smile. Elli is looking to receive her Gold Duke of Edinburgh Award and hopes to put on her Miss England and Miss Liverpool awards, when receiving, it later in the year. Elli, like Gwen wants to continue to promote the area, so if you have an event and would like them to attend, please contact us and we will pass your information over to them. Also it is worth noting that Elli has been chosen to travel to Sri Lanka, in September, with winner of Miss England and Mr England. This is a fantastic opportunity for her to promote Merseyside and the Liverpool City Region to an even bigger audience!

Mr Liverpool City Region, Thomas Khan has also done well at the event in Birmingham, but sadly did no manage to defend the title for Liverpool. He is also very keen to do other events over his year as Mr Liverpool City Regions, to promote the area, so if you want him to attended, please let us know and we will put you in contact. For more information about Miss England and Mr England visit:- MissEngland.Info and MrEngland.Info.

Miss Hope Valley, Stephanie Hill was crowned the Miss England 2017 and will now represent England, at the Miss World, in Sanya China, on 18 November 2017. Stephanie is currently completing a degree in radiotherapy and intends to study a masters degree in the future. Also the winner of the Mr England title sponsored by Envoy London, was Jack Eyers, who has became the first amputee to win the title and will now go forward to the Mr World final. Jack has also won a bespoke wardrobe created by Envoy London and will also be invited to Sri Lanka later this year (2017).
---
Muslims from all over the UK will be pledging allegiance to world's largest Caliphate and condemn all forms of extremism, terrorism
MUSLIM men, women and children from the North West will join tens of thousands of Muslims from around 100 countries in the South East of England to pledge allegiance to the world's largest Caliphate, over 28 July to 30 July 2017, in Hampshire, UK.

More than 30,000 Ahmadi Muslims from across the globe are expected to congregate in the Hampshire countryside to hear His Holiness, Hazrat Mirza Masroor Ahmad, the 5th Caliph and Worldwide Head of the Ahmadiyya Muslim Community, deliver 5 speeches and pledge their allegiance at his hand. Millions more will take the pledge simultaneously through a live global satellite feed.

The purpose of the 3 day international gathering, known as the Jalsa Salana, is to promote Islam and challenge misinterpretations of the world's 2nd largest religion.

Manoor Khan, Regional Youth Leader for the North West says:- "The planning for the Jalsa starts almost straight after the last one has ended with over 5,000 volunteers involved. Our region has the responsibility of looking after over 300 youths. I attend the Jalsa because it reminds me of the true message of Islam and rejuvenates my faith and drive to serve the local community, whether that be through tree planting, visiting the sick and elderly or feeding the homeless."

The Ahmadiyya Muslim Community was established in 1889 in India and is led by a spiritual caliphate, with tens of millions of adherents.

The event will open with the traditional Friday Sermon and on Saturday the Caliph will deliver his keynote address in front of 15,000 Muslim women.

The 51st Jalsa Salana in the UK will climax, on Sunday, 30 July 2017, with a pledge of allegiance at the hand of His Holiness, Hazrat Mirza Masroor Ahmad; with attendees making a human chain all the way to the Caliph's hand.

His Holiness regularly comments on world affairs and offers solutions for today's problems in light of Islam's teachings. For years, he has warned about the threat of World War 3. He has called for mosques to be open, transparent and has called on authorities to monitor mosques. He has also spoken of the threat of terrorists entering Europe under the guise of refugees.

In advance of the Jalsa Salana, His Holiness, Hazrat Mirza Masroor Ahmad said:- "Recently, terrorist organisations have started to regularly commit the most barbaric atrocities in Western countries by taking the lives of innocent people. The terrorists have no knowledge of Islam because otherwise they would realise that the Holy Prophet of Islam (peace be upon him) forbade the murder of innocent people under any circumstances and even during a state of war. The Holy Prophet (peace be upon him) prohibited the targeting of innocent children, women, elderly people and he forbade the targeting of religious leaders and places of worship such as Priests and Churches. Spread peace to all parts of society. Spread love amongst all of mankind. Bring people towards God Almighty and the Holy Prophet of Islam (peace be upon him) by winning their hearts through the power of love, grace and compassion."

The Jalsa will be broadcast live worldwide on Muslim Television Ahmadiyya (MTA) which is on Sky Channel 787, in the UK. It will also be available to watch online and on DAB.

Proceedings will be simultaneously translated into dozens of languages, including:– English, Urdu, Arabic, French, Spanish, German, Russian, Turkish, Bosnian, Albanian, Bulgarian, Indonesian, Tamil, Malayalam and Swahili.
---
Singer songwriter Marc Almond's inspirational message for Edge Hill graduates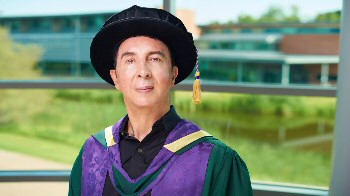 SINGER songwriter Marc Almond had some inspirational words for graduating students today as he accepted an Honorary Doctorate in Philosophy, from Edge Hill University. Although he has enjoyed worldwide fame and sold over 30 million records, Marc told graduates that true success comes from self-belief, creativity and happiness rather than money or fame.

Marc Almond said:- "Self motivation is the key to success in the artistic or musical field. It's character building and you will need this more than ever in today's competitive world. Success is doing what you love, to be fulfilled by your creativity, to be happy. If success comes, enjoy it, then appreciate it, but most of all be self motivated. Self belief above all else will do the heavy lifting for you. I feel honoured to be here today receiving such a prestigious award from an esteemed University recognised for its excellence. I was so impressed when I was given a tour of this beautiful campus."

Marc Almond has sold over 30 million records worldwide in a career that has spanned a diverse range of musical styles from the electro of his band Soft Cell to Turkish torch songs to Brazilian Macumba music and Russian folk. In 2010 Marc; who grew up in Southport, celebrated 30 years as a recording artist with a successful tour, culminating in receiving Mojo magazine's 'Hero Award.' He released 3 albums in 2014 and has most recently released the musical anthology Trials Of Eyeliner covering the years 1979 to 2016. His Shadows and Reflections tour is scheduled for October and November 2017.
---
Create your own 'Techy' Art Exhibition
THIS summer, there are lots of exciting activities for kids going on at Birkenhead Central Library. There are 4 free workshops planned for August based on:- 'Destiny', all with different things to learn and make. The workshops are supported using public funding from the Arts Council England and are led by experienced artists that combine arts and crafts with the latest technology to create:- 'Techy art.' Children will have the opportunity to create their own piece of techy artwork that will then be displayed in the prestigious Williamson Art Gallery. The work may light up, change colour, talk, play music or your child may have even made the camera that takes a displayed photograph!All of the workshops last for 3 days and will take place, between 10am to 3pm, and all are welcome to attend as many or as few of the workshops as they would like. Children can either stay at the workshop during lunchtime or have lunch at home; between 12 noon to 1pm.

► Workshop 1 – High and Low Tech Stories, Thursday, 1 August 2017 to Thursday 3 August 2017... Come and join Laura and make an interactive story and try out different materials. Add sound effects to a picture, use smart paints that change colour and disappear and brighten up your image using simple electronics that make your pictures change or light up!

► Workshop 2 – Soundscape stories, Monday, 7 August 2017 to Wednesday 9 August 2017... Come and join Uma and learn how to make and record a soundscape from your own stories. Explore your own destiny to create a short story, which you will then turn into a digital audio recording.

► Workshop 3 – E-textiles, Wednesday, 16 August 2017 to Friday, 18 August 2017... Come and join Elizabeth and learn how to make an arty E-textile banner combining materials that can talk, play music or light up with LED's.

► Workshop 4 – Pinhole to Pinterest, Monday, 21 August 2017 to Wednesday, 23 August 2017... Come and join Rachel from Little Vintage Photography for a photographic adventure! You can learn how to build your own camera, make images appear from thin air, and print real Polaroids from a mobile phone! You'll learn about science, technology and art whilst helping Rachel create a real life art exhibition.

If you would like to book or have any questions please contact Kirsten Hume via email or call:- 0151 606 2119. Places are limited and will be allocated on a first come first served basis. Spaces are available for children aged 9 and above only.
---
Paramedic Tools Aims to Reduce Ambulance Callouts to Care Homes
A pair of paramedics have developed a brand new way for North West Ambulance Service (NWAS) to work with nursing and residential homes to help residents to get the most appropriate care more quickly. Staff at nursing and residential homes can now be trained by NWAS to use the:- 'Nursing and Residential Triage Tool' to determine themselves whether a patient requires an emergency Ambulance or it would be more appropriate for them to be cared for by a GP or urgent care service.

Specialising in working in the community, Paramedic, Mark Wenman found that in 2016 around 6.8% of all 999 emergencies in the North West were callouts to Nursing and Residential Homes, and of these jobs, 19% didn't required hospital treatment. Mark enlisted the help of Triage Development and Evaluation Paramedic, Steph Allmark and started looking into a way of finding these patients more appropriate care. Mark said:- "Patients in care and residential homes are often much more comfortable being treated where they are without the need to be admitted into Hospital and wherever possible we will do everything we can to make sure this is possible. This tool is not only hugely beneficial to the ambulance service as it frees up our vehicles and crews for serious and life threatening emergencies, it also means that the patient is treated in a surrounding that they are used to with people that they know."

The tool works by allowing carers, who have prior knowledge of the patient's health needs, to look at the symptoms being presented and using to tool to find the most appropriate care based on the world renowned Manchester Triage Tool. Initially using the tool in just 3 Care Homes in the area, its success has now meant that it has been implemented in over 50 across the North West with a view to expand to over 200 in the coming months. Using the tool has proven successful in trials and has reduced:- 999 calls to nursing and residential homes by over 50% in some cases. Care Home staff are initially trained on how to use the tool by an NWAS professional and are then able to refer to the tool to help decide on the most appropriate care based on the symptoms being presented by the patient. A short promotional film is available to watch is available online.