Consumers in the North West hunt down money saving deals instead of bulking up their savings
WHETHER it is regularly saving money into a bank account or saving money through discounts, the same word is used; saving. Despite these words meaning very different things, new research reveals only 28% of consumers in the North West realise there is a distinctive difference between the 2. The new report from TopCashback.co.uk, the UK's most generous cashback shopping site, finds that 75% of consumers in North West consider themselves a saver, yet only 39% frequently put money into a savings account. 33% of consumers believe being savvy with their spending and getting a discount is more important than saving regularly (27%). This accounts for why a huge 80% consumers in the North West spend wisely with 55% doing so every time they shop.

Adam Bullock, UK Director of TopCashback.co.uk, said:- "Our research highlights an issue with what people consider saving to be. Although consumers in the North West typically save ₤48 each month by using discounts, it may not be enough when it comes to saving for a car, home or later life. People could be better off by making their money work harder for them. It is likely people are spending wisely to make ends meet, making it tricky to put away any leftover cash. But, if people aren't putting this money aside into a savings account, the efforts of spending wisely will not have an impact on actual savings and the need to make ends meet each month will only continue."

While 49% of consumers in the North West see the money they save from spending wisely as cash they can put aside or spend elsewhere, 37% see the lower cost as the final price, and therefore not a saving at all. Consumers also believe the negative effect of not spending wisely is more detrimental than not having savings. Consumers in the North West see not having savings as not being able to pay for unexpected expenses (67%). Yet, 51% believe not spending wisely results in not being in control of their finances. The research also shows 40% of people find it easier to spend well rather than save compared to just 25% who believe the opposite.
Adam Bullock continued:- "Although spending wisely can seem like the easy option to take control over your finances, it's important consumers try to put away what they can into a savings account regularly and allow it to build up. With cashback, consumers can save on their spending and allow it to build up, instead of simply spending the remaining cash left in their bank account, and then transfer it straight into a savings account."
---
Court bills of around ₤300 for people who dropped litter in Liverpool
PEOPLE who refused to pay ₤80 fines for dropping litter in Liverpool have been found guilty in Court and face being hit in the pocket with a bill almost 4 times the cost of the fixed penalty notice. In March 2017, the Council launched a new partnership with Kingdom which has seen a 14 strong team of enforcement officers deployed to issue fines to people dropping rubbish across the City. The vast majority of people pay up, but now those who refuse are being taken to Court.

At a hearing at Liverpool Magistrates, on Tuesday, 15 August 2017, 23 people were found guilty in their absence following evidence presented to the Court by the City Council. They were fined ₤150 plus ₤125 costs and an additional ₤30 victim surcharge, bringing their total liability to ₤305 each. 1 other person pleaded guilty and was fined ₤100 plus ₤70 costs and a ₤30 victim surcharge. All of the cases for the 14 men and 10 women relate to dropped cigarettes, with most of the offences taking place in the City Centre, as well as Norris Green and Old Swan. Most of those taken to Court were from the Liverpool area; but there were also people from as far afield as London, Worthing and the Isle of Man.

Councillor Steve Munby, Cabinet member for neighbourhoods, said:- "Our residents deserve to live in a clean and green environment and not have it trashed by people who think it is someone else's responsibility to clear up their mess. We have now got a 0 tolerance approach to people dropping litter, and I hope this Court case sends out a strong message that it is far better to pay the fine, rather than simply ignoring it and hoping we will go away. There will be more hearings in the coming months and my advice to anyone who receives a summons is to pay up now; otherwise you risk a much bigger bill if it comes to Court. Our clear message to people is that dropping litter is anti social behaviour and blights communities. Our share of the income from fines is contributing to the wider environmental budget from which we are funding a range of improvements from larger litter bins to extending street cleansing hours and cleaning alleyways to tracking down those responsible for fly tipping."

Last month, the Council approved plans to introduce an environmental crime hotline and a crackdown on late night takeaways that don't clear litter from outside their premises as part of its ongoing campaign to tackle blight in Liverpool. There has also been a doubling in the number of staff tackling flytipping and cleaning alleyways, with 4 new teams working 7 days a week. Street cleaning currently costs Liverpool Council Tax payers ₤8.5 million per year and last year, more than 6,500 tonnes of waste was collected from street cleansing rounds.

Ellesmere Port Junior Golfer Wins UK / Ireland Title
Photography by Mark Newcombe VisionsInGolf.com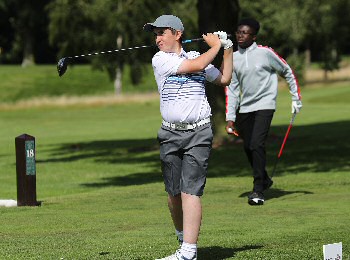 NATHAN Newton, a junior golfer from Ellesmere Port, has won the national final of the American Golf Junior Championship after an incredibly tight contest at Gainsborough Golf Club, home to manufacturer PING.

15 year old Nathan who plays his golf at Upton by Chester, made it through to the final following an impressive display at the regional qualifier at High Legh Park Golf Club. At the final he lined up against qualifiers from all over the UK and Ireland in the Gross score category where the best golfers compete with no help from handicaps.

In tough conditions, particularly over the back 9 Nathan played some exceptional golf, but was shadowed the whole way by Keene Honer from Roganstown Golf Club near Dublin. Both boys thrived under the pressure and after the scorecards were tallied, both came out with rounds of 3 over par, on what is widely recognised as 1 of the region's toughest courses. To separate the 2 leaders further analysis of the cards was needed, before Nathan was declared winner by virtue of a better last 9 holes.

After his superb win, Nathan commented:- "I came really close to winning last year, so it feels great to come back and win today. I practice all the time and everything clicked on the course here. I'd like to thank American Golf for holding such a great event and also my mum and grandparents who came along to support me today. I'm really happy!"

Daniel Gathercole, Director of Marketing and Communications at American Golf said:- "The golf, sportsmanship and camaraderie on show today really has been 1st class. Some of the best junior golfers in the UK and Ireland have turned out to play in the Championship this year so the competition has been intense. But never within that cauldron of competition has any player lost sight of the fact that we're here 1st and foremost to have fun and celebrate our love of the game of golf. PING have been superb hosts once again and from all the juniors and from American Golf, we can't thank them enough for their hospitality."

The Junior Championship, which will be shown on Sky Sports, in October 2017, is a vital part of American Golf's drive to get more people out playing golf more often. In its 4th year, the Championship goes from strength to strength and with the quality of golf and personality on show through this year's qualifiers and final, golf with American Golf has a very bright future.
---
Deaf children in North West likely to fall a whole grade behind peers at GCSE
GOVERNMENT figures show that deaf children across the North West of England are likely to fall a whole grade behind their peers in their GCSE's. With thousands getting their results this week, the National Deaf Children's Society is urging the Government, local authorities and health bodies to provide the support needed to close the GCSE attainment gap between deaf and hearing children. Hazel Badjie, North West Director for the National Deaf Children's Society, said:- "Deafness is not a learning disability; with the right support, there's no reason why deaf children can't achieve the same things as their hearing friends. Sadly, this data suggests they're not getting that support."

The charity is particularly concerned about deaf children in Bury, following council plans to reduce specialist support and a recent Ofsted / CQC inspection finding "significant areas of weakness" in local services for children with special educational needs and disabilities. "As school gates re open this week, Bury City Council must reconsider their plans to cut vital support services. This gap in GCSE attainment shows deaf children need more support, not less; so the focus now should be on improving outcomes, not on cutting costs," added Jessica Reeves, the charity's Campaigns Manager.

The charity has also challenged Council proposals in Cumbria, to close specialist support units for deaf children in mainstream schools. To find out more, visit:- NDCS.Org.UK for more information.