Independent report into festival released
AN Independent report into the failed Hope and Glory Festival, Liverpool, has found that the event organisers were responsible for its collapse. Commissioned by Mayor Anderson and carried out by 'The Event Safety Shop' (made up of some of the country's leading Health and Safety experts); the report has found that organisers tinyCOW were responsible for the failure of the event in St George's Quarter, that was meant to have been held over 5 August to 6 August 2017. They describe the event management plan as:- "not being fit for purpose" and found that the site build was delayed due to a lack of direction and communication by the company.

The catalogue of failures:-

► No signage was installed, staff weren't briefed and there was confusion around the queuing system, with some customers being given incorrect tickets.

► There was no designated area for lost children or vulnerable adults.

► There was no emergency evacuation plan in place.

► Acts on the main stage ran behind schedule and there were very long queues at the bars and toilets.

► Members of the public felt there was significant risk to public safety.

► The event manager left the site, was un-contactable and wasn't seen again until the end of the day.

The authors praise the actions of Council Officers who stepped in when things began to go wrong and made sure it was able to go ahead safely on the 1st day before being cancelled by organiser Lee O'Hanlon, on the 2nd day. But it also recommends that the Joint Agency Group (JAG) and Safety Advisory Group (SAG); which includes:- the emergency services, public transport bodies, the City Council and the NHS; are more involved in examining event plans and documentation in future. It also found that background screening checks into tinyCOW through professional bodies or trade associations would not have stopped their application from being progressed.

Mayor Joe Anderson said:- "We are a City renowned for staging large scale, successful events, and as a result of our reputation, we have more and more interest from the private sector in staging events here. We can't accept anything that jeopardises our hard-won reputation. This is why I commissioned an independent report to spell out exactly why this privately organised event failed, and look at what the public sector could do to mitigate this happening again. It's clear in retrospect that the failure of the event was down to the mismanagement of the organisers and our staff did tremendous work on the first day sorting out a wide range of issues and enabling the event to continue. This report was all about learning lessons, and although our procedures have served us well for the past ten years, the context and environment for staging events has changed in recent years, so we need to be honest with ourselves and reflect on the processes and procedures that are in place and react to the recommendations put forward. As a result of this report, we will work with our partners to put in place enhanced planning procedures for event which will find the right balance between scrutinising documents and not making the process too bureaucratic for organisers. If the company hadn't gone into liquidation, I would have asked Merseyside Police to investigate the financial liabilities of the Hope and Glory Festivals Ltd. As far as I'm concerned, they have a moral obligation to reimburse disappointed ticket holders who are out of pocket and I will be making this point to the liquidators."

The full report can be found online.
---
Parents urged to access vital funding to help children become 'School Ready'
LIFE chances commission finds that a ⅓ of childcare settings in the Liverpool City Region are missing out on vital funding of up to ₤300 per week, for disadvantaged children. Commission announces 3 moves to counter low take up... Ensuring a child is ready for school, regardless of their background, is a key priority for the Liverpool City Region Life Chances Commission which informs the Liverpool City Region Combined Authority's Health, Adult and Children's Services Portfolio. The Commission has found in a survey that the Early Years Pupil Premium, a fund worth up to ₤300 per week, which is aimed at helping 3 and 4 year olds become 'School Ready,' is having a positive impact on disadvantaged children's development in the Liverpool City Region:-

► Most childcare providers see clear improvements in confidence, self esteem, language and communication skills as a result of the funding.

► Funding is generally being used on communication and language training, early literacy programmes, play based learning and social and emotional learning strategies.

► Using funding for play and outdoor based learning has improved social and emotional skills as well as language and communication.

1 respondent to the survey stated that:- "most children in last year's cohort made more than expected or accelerated progress in most areas of learning," as a result of an:- 'Early Years Pupil Premium' funded programme.

A number of providers stated that the Early Talk Boost and Chatterjacks programmes in particular have improved communication and language skills. However, take up of the funding remains incomplete, with around a ⅓ of childcare providers surveyed by the Commission not receiving any 'Early Years Pupil Premium' funding. Those providers are aware of eligible children who were not claiming the extra funding, and 1 of the main reasons for this is due to a lack of awareness amongst parents that they are able to apply for it.

The Commission announces 2 moves to help counter this low rate of take up. It has:-

As an immediate move, urged every local authority to use their benefits data automatically to register eligible families for this additional support, before the full Universal Credit service arrives. As a longer term measure, requested that the Minister of State for Digital develop a new digital charter to counter child poverty and equalise life chances. This would enable improved sharing of data between providers and local authorities, once Universal Credit has been rolled out, so that all eligible children automatically benefit from 'Early Years Pupil Premium' and free school meals.
The Commission's Chair, Frank Field MP said:- "We are clearly seeing improvements in a child's development where the Early Years Pupil Premium funding has been claimed. The early years are a critical time during a child's development and the funding provides opportunities that can be life changing. Whilst the money isn't necessarily visible to parents, it does benefit their child, so it's vitally important that parents of eligible children apply for it."

In the meantime, the Commission is urging parents to apply now so their children can benefit from this additional support. To find out more about eligibility, or to apply for funding, parents can contact their Nursery or Childminder in the first instance. Further information about the Early Years Pupil Premium Fund is available from local Family Information Services. Cllr Andy Moorhead, Portfolio Holder for the Liverpool City Region Health, Adult and Children's Services added:- "Our priority is to ensure children across the Liverpool City Region get the very best start in life and Early Years Pupil Premium funding can provide additional support and resources to accelerate a child's development. I would urge any parent to speak to their childcare provider to see if they are eligible and ensure the funding is claimed; if we don't claim, someone else will!"

Ten Streets public consultation to begin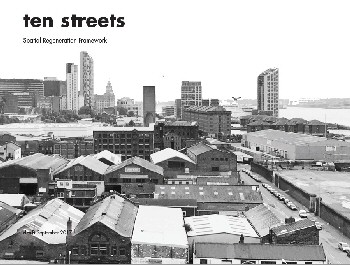 A major public consultation on the proposed dramatic transformation of 125 acres of former docklands is set to begin in Liverpool. The 6 week long event will be inviting feedback on the draft master plan which includes establishing a creativity district in the Ten Streets area of North Liverpool, which could generate up to 2,500 new jobs. Liverpool City Council's cabinet have approved the draft Spatial Regeneration Framework (SRF) and the public consultation will be launch at 10am, on Tuesday, 10 October 2017, at the Titanic Hotel, in Stanley Dock, which lies within the City's World Heritage Site.

Business, residents and members of the public will be invited to give feedback on the document which sets out 10 ideas, 5 key themes and a set of design and development principles to guide the current and future development of the site, over the next 15 to 20 years. There will also be a series of public roadshow events to be held across the City at Titanic Hotel, on Sunday, 15 October 2017, from 12pm to 4pm, Fact Liverpool, on Tuesday, 24 October 2017, from 12pm to 6pm and RIBA, Mann Island, on Monday, 6 November 2017, from 12pm to 6pm.

The draft Ten Streets SRF will also be available to view, on the Ten Streets website, with feedback forms available to collate comments. The deadline for responses will be Tuesday, 21 November 2017. Following the consultation the final SRF is anticipated to return to the cabinet in December 2017, for approval and formal adoption as a Supplementary Planning Document (SPD).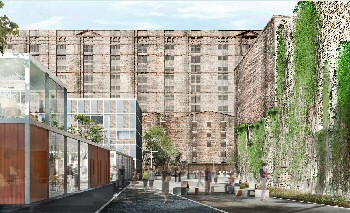 The SPD document will assist in the determination of all future planning applications and any potential use of the Council's Compulsory Purchase Orders; both in the Ten Streets creativity district and surrounding areas, with the overall SRF area having been set out into 6 distinct buffer zones running from Leeds Street, in the South to the land adjacent to Bramley Moore Docks in the North.

Liverpool City Council recently procured HOW Planning and shedkm to undertake the task of shaping the Ten Streets SRF, which is proposing controls on the design and height of new developments in the area as well as ensuring commercial development and affordable rents within the Ten Streets district are protected. Joe Anderson, Mayor of Liverpool, said:- "Ten Streets has phenomenal potential to transform North Liverpool and the city's future economy. This new framework document will no doubt be of huge interest to everyone who wants to see the transformation of this part of North Liverpool and the public consultation will be critical to shaping its direction."

The Ten Streets vision, launched earlier this year, unveiled 10 big ideas to regenerate the Northern edge of the City Centre and the landmark Tobacco Warehouse, at Stanley Dock, which lies within Liverpool's World Heritage Site. The proposed creativity district lies within the poorest ward in the UK, known as Kirkdale. The area has the potential for up to 1 million square foot of development and the Council is keen to attract creative companies and enterprises to flourish alongside artistic organisations.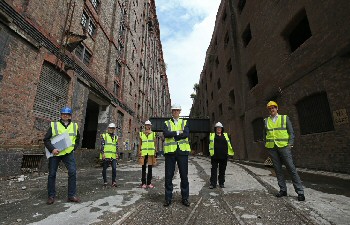 Situated on Liverpool's Atlantic Corridor, next to Peel's ₤5.5bn is a key part of the City's big picture regeneration vision to deliver ₤13 billion of investment and create 40,000 new jobs over the next 10 years. As a predominantly creative and employment district, the proposals for Ten Streets will complement other emerging employment areas like the Knowledge Quarter and Liverpool Waters. Liverpool City Council has already made a big commitment to improving transport infrastructure in the area and is currently investing ₤100m in upgrading the roads, creating a new Cruise Terminal and is in talks to establish new rail connections. The City Council has also approved a Regional Growth Fund to be invested in The Kazimier's Invisible Wind Factory, which is seen as 1 of the primary creative incubators in the district. Other key partners in the Ten Streets scheme also include Harcourt Developments, owners of Stanley Dock.
Please also send us your views on this hot topic, as we would be very interested to hear them. Email our newsroom via:- News24@SouthportReporter.Com.
---
Brave Police Officer to be remembered in unique honour given by the Police Memorial Charity
A moving ceremony for the unveiling of the Police Memorial Trust's national tribute to PC David Phillips, from Merseyside Police, took place on Thursday, 12 October 2017, in the historic Hamilton Square Gardens, Birkenhead. The tribute is the 1st time a Merseyside Police Officer has been honoured in this way. Mrs Michael Winner, Chair of the Police Memorial Trust (PMT) said:- "I am extremely proud to be in Merseyside to lay the Trust's 42nd Memorial to this fallen Police hero." The Memorial unveiling was attended by the Officer's family, friends and very many of his Merseyside Police colleagues. Various local civic dignitaries including the Mayor and 3 local Members of Parliament also attend, along with all the National Police Associations, represented by Senior Officers. The unveiling also featured the Merseyside Police Band, who play a programme of specially selected music. During the ceremony Mrs. Winner and Merseyside Chief Constable, Andy Cooke, paid tribute to PC Phillips's service and sacrifice. The stone Memorial, honed from Balmoral granite was then unveiled. Following the ceremony The PMT held a reception in Birkenhead Town Hall. The event was also televised on a large mobile TV screen located in Hamilton Square.