LIVERPOOL voted on a move to ban smoking in public places after an overwhelming majority in favour to follow suit on New York and Ireland this week.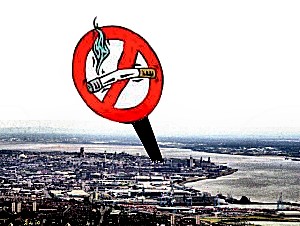 A resolution to promote a Local Act of Parliament was brought before the city council on October 20 to prohibit smoking in restaurants, pubs, shops, offices and other enclosed public areas and workplaces and subsequently approved. The city council will petition Parliament to pass a smoke-free law for Liverpool. It could lead to Liverpool becoming the first smoke-free city in the UK.

The viability of the new law is to be put forward on health and safety grounds to protect employees and the public being exposed to cigarette smoke, and is similar to legislation already in force in Ireland and New York. Liverpool has one of the worst cancer-related death rates in the UK with over a 1,000 people die in the city each year from smoking-related diseases; and supported by health groups including the TUC and the Roy Castle Lung Cancer Foundation.

Councillor Richard Oglethorpe, the city council's executive member for green issues, said:- "We have a duty to protect employees and customers alike from this real danger. 100 people in Liverpool die each year from cancer caused by secondary smoke. I am confident that a smoking ban will receive the overwhelming support of the people of Liverpool."

The Liverpool City Council (Prohibition of Smoking in Places of Work) Bill will outlaw smoking in enclosed workplaces and the level of fines to be imposed on individuals and firms who breach the new law, should it be approved by Parliament.

Firms or individuals who flout the new law face penalties of up to £1,000. The city council's environmental health officers would enforce the legislation.