Trevor Nelson in Southport!
Photograph by Patrick Trollope

HAVANNA in Southport on Friday 18 February was packed out. Radio 1's DJ Trevor Nelson was in town and on the decks, with support acts 'Keisha White' and 'More'. Despite the cold, the que was as if a major pop star was proforming reaching out of the building and along the pavements. Fans came from all over the North West, one of them from Manchester said:- "It's Trevor Nelson!" when I asked why they had come so far.
Trevor was very freindly and put on a class act that warmed every one up quickly with his fantastic mixing. James from Southport said:- "It was worth the wait and the cold. He is jut amazing." Jill from Liverpool added "He looks nice and he plays live the Devil. He is the best and that is why I came!" "It was more like being at the Southport Weekender than being in a nightclub." Humphrey from Preston told us.
Well we, as normal, will let the pictures tell you the rest. We have lots of them... If you like them, please ring us and order your copy and help us to keep this site going.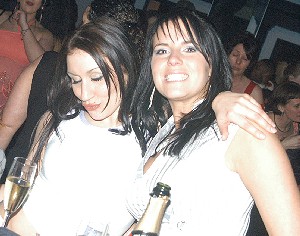 Click below for 4 pages of exclusive photographs, taken on the night.
If the green box above or the purple box below do not show, you must download a new edition of Java. To get it just use this link:- http://java.com/en/index.jsp
~HAPPY BIRTHDAY~

Happy Birthday, Julia now 21 this week!

IF you have some one you want to say happy birthday to for free, then use this email address & send the names to us by emailing us to:- birthdays@southportreporter.com

Log on to our Radio Station

IF YOU HAVE AN EVENT, OR ANY NEWS THEN....

Telephone:-

(44) 01704 513 569

TODAY!

UK office hours only, calls maybe recorded.