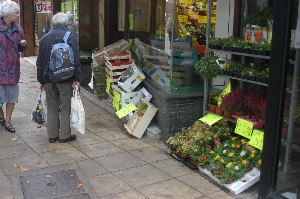 FORMBY'S shops are being targeted by "bureaucratic stupidity" according to customers and shoppers alike. The village has huge pavements and is well known for its colourful displays outside shops. Sadly, all this has to change according to Sefton MBC, who say that displays outside the shops are a hazard to those of poor vision.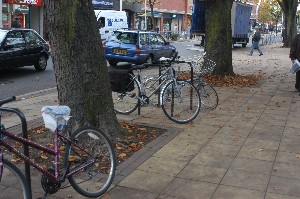 One blind customer who lives in Formby and uses the village every day told us:- "I hate the way we are being blamed for this. I have never found the shop displays a problem and no one has ever consulted us, as far as I can recall, about problems faced by us in the village. On this subject, the worse problem is not the shop displays, it is the council's very own cycle stands. Bikes stick out all over the place. The stands don't have any warnings around them and bikes easily fall over, becoming a real trip hazard to both the sighted and non-sighted. The next hazard again is down to the council. Because of a lack of cleaning of the pavements are often covered by wet leaves and litter. This is a really nasty hazard as people slip over, again sighted and non-sighted. I think it is very funny and sad that the local newsagent who supplies a litter bin has to remove it, or face a fine. How does its removal help us?"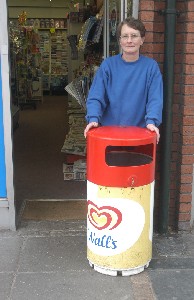 The council has claimed that the displays, including the large dustbin, above, are a hazard and that if they don't take action, the shops could be liable for any resultant accidents. They also point out that it is the law not to obstruct the pavement. Sadly, they have not realised that some of the businesses who have been threatened with fines and confiscation of the so-called 'offending items' don't obstruct the council owned pavement. In fact the objects in question are on the property of the businesses in question!
Send us your views on this topic to:- news24@southportreporter.com