ST. GEORGE'S DAY CELEBRATION 2007 IN LIVERPOOL...
Photographs by Patrick Trollope.

MONDAY, 23 April 2007, St George's Day, saw a very special series of events. Liverpool, where its world-renowned neo-classical gem, St George's Hall, has had a £23 million restoration. This was officially reopened by HRH Prince Charles, who was given a tour of the Hall and also received a degree from the Liverpool John Moores University. People waiting outside in the drizzle, were entertained by the Milapfest Indian dancers and musicians, who performed colourful and energetic displays on the steps of the Hall accompanied by stirring music. On leaving St George's Hall Prince Charles briefly met some members of the waiting public after which he was whisked away to the Anglican Cathedral. He was due to attend a community centre in High Park St, South Liverpool, in the afternoon and to return to the Cathedral, in the evening, for a special commemorative service.

Before he left St George's Hall, he rang a symbolic bell, which instigated an intriguing and unique "Symphony for St George". This began with three cannon blasts and then the interplay of cathedral, church and civic bells commenced throughout the City, plus the hooters from the Albert Dock and River Mersey. Unfortunately, the noise from traffic all but drowned out the sounds in the immediate environs of St George's Hall and the City Centre. Around Hope Street, however, things proved very much more entertaining for those souls who had ventured up the hill. Both cathedral peals reverberated and a robust group aloft scaffolding attached to a corner of the Philharmonic Hall, sounded air horns and rang small bells with considerable vigour. These sounds mingled with the more distant sounds of the church bells, cannons, hooters and sirens. The whole fascinating experience lasted for one hour.

Footage will be added to our online TV & Radio station, Liverpool Reporter, later this week.

In the evenings throughout the week, there were Son et Lumiere displays in St John's Gardens, when scenes portraying Liverpool's City's history were projected onto the walls of the buildings, to celebrate the 800th Anniversary of the granting of its Charter, by King John.

Later on St George's Day, the now reopened St George's Hall was available for public viewing and remains so. Sights include the splendid 30,000 hand crafted, Minton tiles mosaic floor, once again unveiled, for a short time, to the public gaze. Also to be seen in the Hall are the new Heritage Centre and the refurbished ex-Criminal Court, scene of some remarkable trials in days gone by. There is a new viewing gallery and the Minton Tea Room is due to open in June.

The 'Access to the Heritage Project' is displaying the work, up to 23 June 2007, of people with learning difficulties who have worked with local artists to produce their exhibits. A further exhibition is to be held on 4 June 2007 to 15 July 2007, 'Seeing and Believing', involving a multi-faith group from South Liverpool, and centring on the work of 89 years old George Cross from Toxteth.

The Heritage Centre opening times:- Tuesday to Saturday 10am to 5pm, Sunday 1pm to 5pm. Open Bank Holidays. Last admission 1 hour before closing.

Click here to see more photos of the event.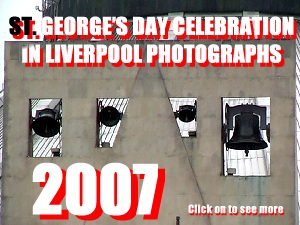 --- MORE NEWS REPORTS BELOW ---
Win Centre Court Tickets for this Years Liverpool International
SOUTHPORT MEP PLEDGES SUPPORT TO END PRIMATE CRUELTY
What kind of future does Liverpool want?
Albert Dock to host Beatles Valuation Event
Repositioning Steers Prontaprint Southport in New Direction
NEARLY 1 IN 6 MPS IGNORE EMAIL FROM CONSTITUENTS
NEW WORK PRACTICES GET EQUALITY BACKING
LAST CHANCE TO ENTER BARCLAYS AWARDS
Vue
Film Showing
Times
SOROPTIMIST FASHION SHOW FOR THE NSPCC
BRONZE AGE SETTLEMENT REVEALED AT MANCHESTER AIRPORT
Delivery crew attacked?
ST. GEORGE'S DAY CELEBRATION IN LIVERPOOL PHOTOGRAPHS
Major works well underway at St Helens Central Station
Majority of people agree with a demand for legislation on age equality
Sandhills Station - £6million works given green light
The rhythm is gonna get you!!!
3 First Cut Awards down to final 3!
Search for 250 winners?
BANKS IN THE DOCK
A DAY OF MODELING FUN
'UNISON HEALTH WORKERS DEMAND ACTION OVER PAY
IS THERE A FRAUDSTER UNDER YOUR ROOF?
GEORGE GALLOWAY ATTACKS 'BLAIR'S BLOODY LEGACY'
Traffic takes off at Liverpool South Parkway
Get on your bike and pedal for the NSPCC
MERSEYSIDE COMPANIES IN LINE FOR GREEN BUSINESS HONOURS
Gilad Atzmon presents Artie Fishel & The Promised Band
WORK WISE UK WELCOMES BRITISH CHAMBER OF COMMERCE FINDINGS
COMING SOON ONLINE LUNCH

YES, if you are in Southport town centre, you will be able very soon to order your lunch via this website.
Thanks to Shamrocks, we will be offering a special advance ordering service. That way you can check out the news and also get your food ordered at the same time...!
Cool or what? Keep an eye on the site for this new service... To find out more about Shamrocks click here. ...Advert...
~HAPPY BIRTHDAY~
If you have someone you want to say happy birthday to, for free,
then use the email address below to send us the names
you want us say happy birthday to, and/or a photograph.
Email us today!