Dragon Boat Race Take 2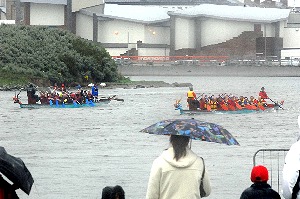 THE first attempt to run this year's Rotary Club Charity Dragon Boat Race, on Southport's Marine Lake, had had to be cancelled due to high winds. On Saturday, 9 August 2008, it was not looking good, as high winds and rain were forecast. However, despite the heavy rain, the high winds did not strike again. It was hard to work out though, just who was wetter, those racing in the boats or the public watching from the backs outside the Southport District Scout Council's Waterside Lodge. This was an extremely well run event and just as much fun for the spectators as it was for those competing in the race. A commentary on the race was given by SCR. Food and drink was provided by the Scouts. Also helping out was St John ambulance. All the cash raised was given to charity. Well done, to all participants and to the Rotary for not letting the weather win. We look forward to next year's event.
Click here to se more photographs of this event.
Find out what sex is the best Male or Female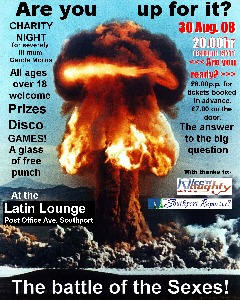 DO you know who is best... Find out at the Battle Of The Sexes at the Latin Lounge, on Post Office Ave. Southport. The night will be full of entertainment all designed to find out just who is better, male or female. With a Disco, Games and a free glass of Punch, the night will be a real blast... So are you up for it? All the money raised will go towards the medical treatment of Carol Morris, who is a Southport Mum, who is severely ill, with Cancer. Tickets are £6.00 in advance and £7.00 on the door. Strictly 18 and over. The night is supported by Southport's Nice 'n' Noughty Adult Shop and ourselves at PBT Media Relations Ltd. - Southport Reporter.