MAJOR FIRE AT PLEASURELAND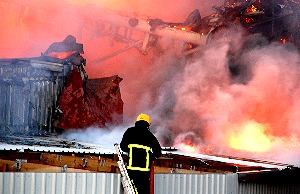 FIRE ripped through the old River Caves amusement ride, also known as Lost Dinosaurs of the Sahara, at New Pleasureland, after what is believed to have been an arson attack by children. "It was three kids on bikes. They were seen laughing and running away from the building just before the fire took hold." a worker at the site told us. It is yet to be confirmed, but we have had more than one statement like that from the site. "Lucky it is in the derelict ride on the Promenade side of the grounds." another worker told us as fire-fighters battled the inferno. More than 40 fire fighters from all over Merseyside and West Lancashire attended the incident, at one point with more than eight appliances attending. Also on location was an aerial platform, from the station in Southport, lending valuable help to the fire fighters on the ground as they battled towering flames to keep the blaze from spreading to adjacent buildings. Even a command and control unit had to be summoned from the Wirral. We have been informed that dozens of concerned members of the public rang 999, after the blaze began at around 7:45 - 8pm. Plumes of black smoke could be seen from all over the town centre and surrounding area. "At one point it as like fog out side", one business on Lord Street said. Thankfully, no one is believed to have been hurt in the fire. The blaze was still smouldering well into the night, leaving a trail of thick white smoke in the night sky over Southport. If you have any information then please call Crime Stoppers on 0800 555 111 to pass on information anonymously.
See lots more photographs of this fire, taken by our editor Patrick Trollope, by clicking here now.
Victory for consumers on text roaming
LOCAL Labour Euro MP and Labour's Consumer Protection Champion, Arlene McCarthy, has won another battle in tackling excessive mobile phone roaming charging by forcing the industry to cut prices for texting roaming. Euro MPs will voted through the new law in Strasbourg on Wednesday, 22 April 2009 and it will come into force this summer and automatically lead to cheaper mobile phone roaming in time for the holiday period. Arlene said:- "In 2007 we introduced the regulation on mobile phone roaming charges for voice calls across Europe which has successfully slashed the cost of roaming calls and consumer have reaped the benefits with 60% cuts in costs. Consumers continue to be charged up to 10 times more than domestic rates for sending texts. We gave industry the chance to voluntarily reduce the costs of text roaming or face further action. Their failure to respond means that we have been left no choice but to legislate to protect consumers and use this law to force the industry to reduce their charges." Commenting on rules included to ensure per second billing for consumers Arlene said:- "Many operators have responded to our law on roaming calls and cut their prices further, but some have tried to avoid giving consumers the full benefit by starting to round up charges to the nearest minute. This equals a 20% hidden charge for calls which consumers don't actually use. I have raised this issue with operators, regulators and the Commission over the last year and I am glad Euro MPs have clearly backed my call for a fair deal and a return to per second billing as a requirement for all operators." The law will also introduce a new system of transparency for 'data roaming'. Arlene said:- "There is still more to deliver for consumers, we must also tackle overcharging for data roaming. In a recent example a constituent had been charged over one thousand pounds for accessing the internet twice from their mobile while on holiday. "