Kingsway Fire in Southport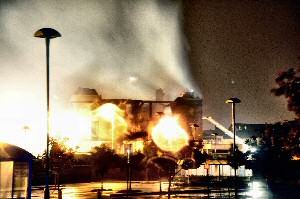 THE historic landmark knows as the Kingsway, on Coronation Walk in Southport, which opened in 1931, was gutted on Monday night, 6 September 2010. The alarm was received just after 8pm of the fire at the now disused Night Club on Southport Promenade, but by, then the fire was well established on the 3 floors. The venue was earmarked for demolition as part of a new £9m redevelopment scheme. In its heyday, during the 1960's as The Kingsway Club, it was well favoured and popular. Several famous stars performed there among whom was drummer Ringo Starr who made his Beatles debut there in 1962. Other acts, such as Tom Jones and Cilla Black performed there. It later served as a Casino and Bingo Hall but was closed round about 2007. Police and Fire Officers cordoned off areas and 7 fire appliances and 2 aerials, from across Merseyside and other areas, were deployed to quell the flames, later followed by several others. At the height of the blaze, around 50 fire fighters and 12 appliances were in attendance. The ravaging fire destroyed most of the building, which was deemed to be unstable and unsafe for officers to enter, so only external measures were continued. Fortunately, no one is believed to be inside where the wind fanned furnace - like flames and dense smoke into a hellish spectacle.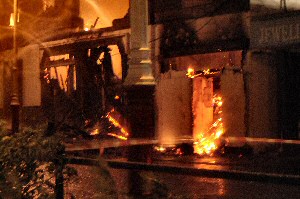 The remaining hulk was razed on Wednesday, 8 September 2010. All the roads around the venue had been closed, until the
demolition took place because of the risk of further walls collapsing. It is sad to see the end of a building with so much history. The cause of the blaze is still to be discovered.

Manchester based business is hoping to develop 54 apartments, a 100 bed hotel along with 4,000 sq feet of retail space on the site. When interviewed by the media, Director of Woodthrope Homes, Mr Kevin Hegarty said:- "I was in Dublin when I got the call about the fire. When I was called about the fire I was on the hands free and I very nearly crashed my car. Looking at the building now, I can only see one outcome, although it is not my call. I cannot believe it has happened. I am glad no one was injured."

Archived Reports:- Link 1 | Link 2

...HAPPY BIRTHDAY...
If you have someone you want to say happy birthday to, for free, then use the email address below to send us the names you want us say happy birthday to, and/or a photograph. Email us today!