The Southport Weekender is Moving!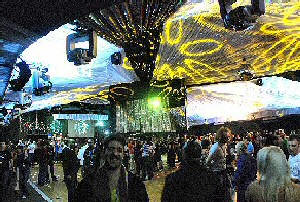 THE news that music lovers in the area have been dreading is now reality. Sadly, the problems with Pontin's have meant that the 24 year old event is no longer going to be held in Southport, by the looks of things. This is a sad end for what has been an amazing time for Sefton, that has put Southport, year after year, on the international music map. The event attracts people from all over the world, including A-list stars, yet we always found it odd that many people locally did not know what it really was and even when told they said they knew better. What was more shocking was the fact they did not realise just how important it was to the local economy. We will being more news about this as soon as we have it. So far we have been given this statement:- "With exactly 4 months to go and after weeks of negotiations, we are moving the event to a new location, Butlin's Holiday Resort in Minehead, Somerset. This will come as a big shock to everyone after all the years we've been at Southport and the many fond memories we all hold, but even before the administration issues at Pontin's we had been in negotiation with Butlin's to move the event there in the future. And for this reason alone Butlin's have stepped in to move heaven and earth to accommodate us for our May event, even though it is in peak season for them. As you all know through our past emails to you, our solicitors have been in regular contact with the administrators at Pontin's. But despite making all the right noises they cannot give us the cast iron guarantees that May's event will proceed as they are actively trying to sell Pontin's. We cannot take the risk to you or us with the possibility of only 2 months to go and another £500k invested and no chance of finding a new venue, the event then not proceeding for one reason or another. They say things happen for a reason and if this is true, when you see the Minehead resort, which sleeps just over 6000 people, we know you're going to love it! The resort really is amazing and the good news is with the extra capacity, everyone will be on resort including staff, DJ's and artists as one big happy family. And for all you unlucky people who missed out we will be putting another 1500 places up for grabs from Friday, 28 January 2011. It's a truly beautiful landscaped resort situated near the rolling hills of Somerset on the edge of Exmoor National Park with lovely beaches and the harbour town of Minehead. Being close to the gulfstream it often enjoys the weather and judging by the palm trees we believe it. The standard of on resort accommodation on offer is of all sizes from 2 berth upwards to 8 berth, with a choice of self catering and room only, are superb - and no more electric cards - as all your electricity is included!! As we are sure you appreciate we could be inundated with enquiries in the next few weeks not just from those of you already booked, but also people wishing to join us and we have taken on extra help for the phones but please bear with us. If you have any questions please call:- 0844 879 7210 during office hours."

Patrick Trollope our editor said:- "Over the years we have had a very good relationship with the event and all involved. It will be very sad to see them leave. We wish the team at the Southport Weekender all the best for the move and we hope that it will one day return. Of course we will still follow this amazing event, to the best of our ability, even though it is no longer in the Southport area for the foreseeable future. It has been a honour to have been allowed to cover it for so many years!"
You can email us your memories and views on this to:- news24@southportreporter.com.