Make the NSPCC one of your New Year's resolutions for 2013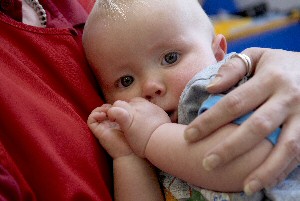 THE NSPCC in Southport is urging people to make 2013 the year of finally keeping those well-intentioned resolutions. Whether it's time, money or energy you have to spare, no matter how much or how little, you can help make a fundamental difference to the lives of children and young people across the region. The NSPCC has a variety of opportunities available across Southport which include volunteering for the Childline Schools Service, delivering assemblies at local schools followed by an interactive workshop a week later, helping with fundraising events, or taking part in one of our many sponsored events.

Louise Stimson, NSPCC head of local fundraising, said:- "There are so many ways you can help us help more children and young people in 2013. Please take some time to visit our website and check out the different range of volunteering roles and events. There really is something for everyone, no matter how much or little time you can spare. If volunteering isn't for you, there are still lots of ways you can play a part in our work here. We'd love to help you organise a fundraising event in your local community or even at work, support you in tackling an Ecuador Adventure Challenge or Everest, or cheer you on in a marathon or one of our hiking challenges, the HACK Hike Against Cruelty to Kids."

Becoming a fundraising volunteer is a great way to use your existing skills and can also give you the opportunity to develop new ones. As part of a group of volunteers your tasks could include: finding raffle or auction prizes, promoting an event to your friends, family and colleagues or planning or supporting an event. You could also organise your own fundraising activity, whether it's out and about, at home, at school or in the office. Here are a few examples: tea parties and picnics, concerts and open gardens, quizzes and swap shop fashion evenings.

For further details about volunteering and details of all the events happening across Southport and the North West please visit the NSPCC website.

KEEP up-2-date
with our free daily news emails.

Are you subscribed? Si

g

n

u

p

today

to

our daily email news service via... Formb

y

-

Re

p

orter

.com

.

If you subscribed you can keep in up-to-date with what's going on in and around Merseyside. It is free and we do not send out massive amounts of emails. Also your email is kept under the UK's Data Protection Act, so you can be sure that you will not have problems.