Cardiac Rehabilitation Centre celebrates it's 10th Year.

Report by Nicky Williams Photograph by Sandy Cribb.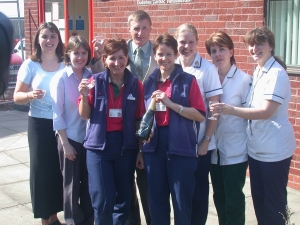 PATIENTS who have suffered heart attacks and need rehabilitating have received professional care for the last 10 years at Southport and Formby District General Hospital's Cardiac Rehabilitation Centre.

So on Monday, March 31, the patients celebrated the 10th anniversary of this fantastic service with Sister Isobel Williamson and Sister Clare Taylor, alongside consultant cardiologist Dr Jonathan Fox, who were all appointed a decade ago when the service was first launched.

Back in April 1993 the two nurses were appointed to set-up and provide care to patients who had suffered heart attacks and needed after-care to help them cope with everyday life, as well as to support patients with angina problems, provide care for patients before and after cardiac bypass surgery, angioplasty and heart transplants.

Since the launch 10 years ago the service has grown from strength to strength and the number of patients treated has expanded from six to more than 40 per month, which is a success story in itself. In fact, 3750 patients have benefited from their expertise and care since the doors opened.

What the centre provides extends beyond the six-week exercise programme, information, advice, support and literature; it is a place where patients can drop in for a friendly chat or a social outing.

One person who knows is Joyce Goatman.

The 69-year-old Southport resident suffered a heart attack nine years ago and was referred to the centre for rehabilitation.

She said: "I really could not have managed without them. The nurses were there from day one and supported me through the good times and the bad times. I couldn't have coped without them.

"When Dr Fox referred me to the centre the nurses went above and beyond their call of duty. They are a hard-working, dedicated team and offer a wonderful service. Sister Isobel and Sister Clare have become like friends to me."

Joyce, who needed angioplasty, went on a rehabilitation course, which helped her ease back into gentle exercise. Throughout the nine years she has attended the centre she has lived life to the full.

She is one of the many patients who the nurses have helped back onto the road to recovery after a heart attack.

Sister Williamson explained: "The patients feel better and are grateful for the service we provide. They can make life-long changes as a result of attending the centre, such as more exercise or stop smoking. But the biggest benefit is that they gain confidence. Some of them even see it as a social outing."

The two nurses and the rest of the team at the centre take pride in watching the progress of their patients.

Sister Taylor said:- "It's such a rewarding job, it's very enjoyable and we never tire of it. It's nice when people thank you for what you are doing and are pleased with the service we provide."

The British Heart Foundation has played a major role in supporting the centre. The charity awarded the hospital the initial start-up grant and, since that time, has continued to provide it with literature and information. In return staff at the centre have taken part in various fundraising events to raise money for the charity.

If you would like to know more about what services the Cardiac Rehabilitation Centre offers, contact Sister Isobel or Sister Clare on 01704 704392.

Drop-in sessions are held on Monday afternoon in the Salus Education Centre (on the Southport Hospital site), from 12.30pm to 3.30pm. Anyone with heart problems or require advice on diet, exercise, stopping smoking or relaxation can attend. No appointments are necessary.


HAPPY Birthday
Happy Birthday David Burton from your grandchildren Chris and Sally and your son. Have a good day watching the National.
IF you have one or have some one who you want to say happy birthday to please use this email:-
birthdays@southportreporter.com
Please send one week in advance, photographs must be JPG and copyright must be held by the sender. Please do not send pictures bigger than 300dpi.