Have your say on Liverpool's 15 year plan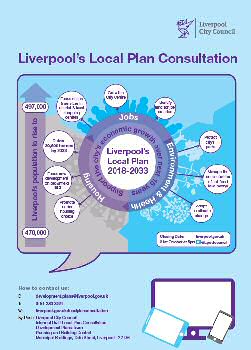 LIVERPOOL City Council is inviting the public to have their say on a new 15 year plan to build 29,000 new homes and to protect public parks from being developed on. The 6 week consultation exercise on Liverpool's draft Local Plan will seek feedback on a series of priorities to grow the City's economy up to 2033, such as identifying and protecting land for jobs, retail development and housing. Residents and businesses can submit comments on this topic and a copy of the draft plan and all associated response forms will be available online. Copies and forms are also available, during normal opening hours, at:-
Municipal Buildings One Stop Shop
Dale Street
Liverpool

Central Library
William Brown Street
Liverpool
L3 8EW
or ALL Community Libraries across the City.
All representations must be returned to the City Council, no later than 5pm, on Monday, 31 October 2016, by 1 of the following methods:-

Via the City Council's Local Plan portal (link above)
Email to:- Development.Plans@Liverpool.Gov.UK

You can also send via:-
FREEPOST RRUK-HRTT-LATT
Liverpool City Council
Planning and Building Control
Municipal Buildings
Dale Street
Liverpool
Merseyside
L2 2DH
For additional queries, the public can also call the Development Plans Team on:- 0151 233 3021.

Cllr Malcolm Kennedy, Cabinet Member for Regeneration, said:- "Liverpool's Local Plan is a roadmap for the City's growth. It demonstrates our commitment to building new homes, attracting new jobs and critically, protecting our parks and opening up new ways for future generations to enjoy them. Everyone living and working in Liverpool will be affected by this plan and what it sets out to achieve; which is a healthier and more prosperous City; and we want to hear from as many people as possible in this consultation to help us fine tune those aims.'"

Liverpool's population is expected to rise to just short of half a million people by 2033 and the draft plan, which has been in development with numerous agencies since February 2013, has identified 81 detailed policies to manage this growth. An initial stage of consultation on the draft Local Plan occurred in early 2014 and the feedback from that process has been incorporated where possible.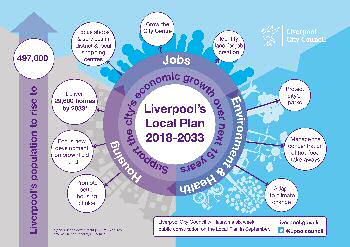 The key priorities in the draft Local Plan are:-

► Protect all of Liverpool's parks for the future health and wellbeing of citizens

► Prioritise brownfield sites to allow creation of 29,600 homes by 2033

► Identify and protect brownfield over 100 hectares of land for economic growth/ regeneration / job creation

► Focus shops and services within district and local shopping centres

► Limit the concentration of Hot-Food Take-aways

► Direct new student accommodation development and control an over concentration of houses in multiple occupation (HMO's)

Key to the draft plan is to focus future development on brownfield land, with brownfield sites and sites already approved for housing earmarked for 29,600 new homes and making sufficient provision for regeneration / job creation across brownfield sites in the City's key employment areas. And based on the Mayoral review of Green and Open Spaces, which will be published in October 2016, the Local Plan will not just protect parks but will also respond to the findings and recommendation of the review.

1 of the most important proposals relates to the identification and extension of a series of corridors for walking, cycling and the linking of wildlife areas. The review has also identified the creation of the new non motorised routes in a bid to make Liverpool one the most environmentally friendly and healthy cities in Europe. It will also build on the Mayor of Liverpool's Citybike scheme which has introduced 140 bike stations since 2014.

The Council is also seeking to use planning controls in its war on obesity to by limiting the development of hot food take aways. This plan, which is 300 pages long in content, will replace the existing Unitary Development Plan 2002, is a national Government requirement and will be scrutinised by an Independent Inspector appointed by Government. Once the consultation is completed a final version of the Local Plan will then be independently assessed from next summer. Subject to any legal challenges it will then be adopted by the City Council in late 2017.

Delivering important advice for van drivers
WIRRAL'S Road Safety Team is planning a special, free seminar later this month aimed at van drivers and fleet managers in the borough. The event, which takes place in Seacombe, on Tuesday, 27 September 2016, is about supporting local business owners to meet their responsibilities in protecting their vehicles, staff and ultimately their business. Department of Transport statistics reveal that in 2015 there were 4,750 casualties involving occupants of vans or light goods vehicles. This is almost four times more casualties than occupants of Heavy Goods Vehicles, during the same period. The seminar will feature guest speakers from independent fleet risk advisors Prestige, Merseyside Police, the Freight Transport Association representing the Van Excellence Scheme and the Council's Road Safety Team. Cllr Stuart Whittingham, Wirral Council Cabinet member for Highways and Infrastructure, said:- "Driving for work, particularly in liveried vehicles, presents a whole range of potential issues for both the drivers and the organisations they are working for. Ensuring that both driver and vehicle are suitable for the job is essential and the aim of this seminar is to help raise awareness of the various issues companies may face. Providing such support to businesses is an important part of achieving our pledge to provide transport fit for the future."

The seminar lasts from 9.30am noon. Booking is essential as places are limited? To book, email details; names of attendee, name of organisation, contact details and any dietary requirements. To attend you must send it to Carl Loughlin via:- carlloughlin@wirral.gov.uk or by calling:- 0151 606 2501.
Van suspected of being used for fly tipping seized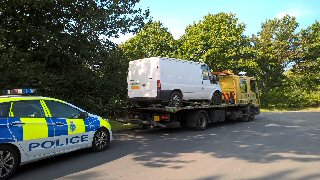 A van suspected of being used for fly tipping in Liverpool has been seized by City Council officers. Working in partnership with Merseyside Police, they seized the white Ford Transit in Ingoe Lane, Fazakerley. Councils have the power to carry out such seizures if they have evidence to suspect a vehicle is being used to illegally dump waste in a way that could cause pollution to the environment or harm to human health. It is the 1st time these powers have been used in Liverpool. An application can now be made to the magistrates' court for the van to be forfeited. Councillor Steve Munby, cabinet member for neighbourhoods, said:- "Fly tipping is a criminal offence. It is anti social, causes a blight on neighbourhoods and results in distress and nuisance for residents. We have always said we will take any action we could against those responsible, and now that we have powers to seize vans suspected to be involved in this illegal activity we will use them. If you use a 'man and van service' to dispose of waste or unwanted items, you should always make sure that it is somebody who is properly licensed as a waste carrier and will responsibly dispose of whatever you give them. Ask for a receipt and make a note of the registration number of their vehicle. Residents can dispose of most unwanted household items for free by using the Bulky Bobs service or a their nearest Household Waste Recycling Centre. Our newest facility is located in Cheadle Avenue, off Green Lane, in Liverpool 13. Anybody who has information about fly tippers should contact Liverpool City Council's Street Scene Team in confidence on:- 0151 233 3001, you don't have to give your name or contact details"
Mersey Mermaid takes to the water for R Charity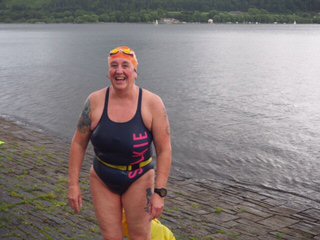 A retired Liverpool nurse has set herself a challenge of swimming more than 17 miles of open water across the UK, ending in a 4 person relay across Loch Lomond. Julie Lloyd has already completed swims in England, Ireland and Wales and now has her eyes set on sharing 24 miles of Great Britain's largest inland stretch of open water, on Sunday, 25 September 2016, to raise money for the new Royal Liverpool University Hospital. The Mersey Mermaid; the keen swimmer's nickname given to her by her husband; will turn 58 on the day she takes to Loch Lomond in Scotland. Julie, from Wallasey, said:- "I love swimming and I love to set myself challenges and tick things off my bucket list; this has been on my list for some time. I feel at home in the water and can't wait to be able say that I've done it. I just hope that whatever I raise will help to make someone's stay in Hospital is as happy and enjoyable as it can be."

Julie's UK swims include:-

► Bala Lake (Wales) 3.1miles

► Coniston Water (England) 5.25miles

► River Liffey (Ireland) 1.4miles

► Loch Lomond (Scotland) sharing 24 miles

► Julie also crossed the Firth of Forth (Scotland) – 1.4miles

Find out more about Julie's challenge; including teaching herself the front crawl and how she prepares for the challenge; by watching a short video online.
More time to bid for environmental improvement funds
COMMUNITY groups have been given extra time to apply for grants to make their neighbourhoods greener. The deadline for applications for the second round of the Environmental Initiatives Fund has been extended to noon, on Friday, 30 September 2016, from its original date of 26 September 2016, after a large member of inquiries had been received. The Fund was set up by the Mayor of Liverpool, Joe Anderson, following a recommendation in the Interim Report for the Strategic Green and Open Spaces Review. This called for community groups, schools and small businesses to be helped to play more active roles in improving their local environment. A funding pot of £20,000 was set up and groups were invited to bid for grants of up to £500. In the 1st round of applications, 23 groups were awarded a total of £10,430 for projects including improvements to community gardens, clean ups and children's gardening schemes. Councillor Steve Munby, cabinet member for neighbourhoods, said:- "There has been a lot of interest from groups in this initiative so we want to make sure that they have enough time to submit their applications. It is encouraging that many groups want to make their neighbourhoods greener." Information about the Environment Initiatives Fund is available online.