Multi million pound Banks housing scheme gets off ground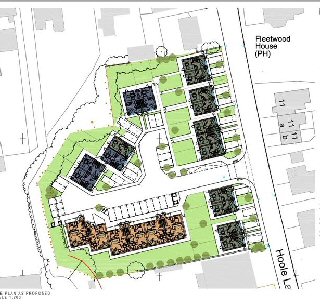 NEW homes are starting to take shape at a £2million housing development which will transform a derelict site in the village of Banks, West Lancashire. Manchester based Harbur Construction is building 29 new properties at the site of the former St Stephen's Primary School on land off Hoole Lane. The project, comprising 12, 2 bedroom and5, 3 bedroom houses, as well as a block of 12, 1 bedroom flats, will regenerate the brownfield site which has stood empty since the school closed 18 years ago. Harbur Construction is building the scheme on behalf of TAC Developments for One Vision Housing, which will make the homes available for affordable rent.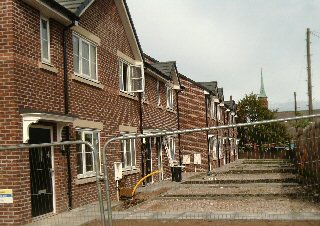 Richard Hutchinson, managing director at Harbur Construction, said:- "The school that previously occupied the land relocated back in 1998, so the site has become a real eye sore in the pursuing years. The development ends almost two decades of uncertainty for local residents, not only helping to bring the land back into use, but also boosting the provision of high quality affordable housing in this area of West Lancashire. We're looking forward to bringing the homes to life."

The properties have been designed sensitively to fit in with the architectural style of the current housing neighbouring the site. All homes will feature fully turfed rear gardens, while a communal private garden will serve the apartment block. The scheme has been designed by Paddock Johnson Partnership and is expected to be completed in February 2017.
Spinal centre celebrates 70 years with international conference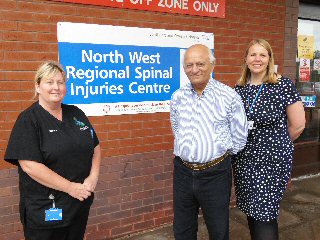 A prestigious international conference in spinal injury care is coming to Southport, in 2017. The 34th Guttmann conference is hosted by the North West Regional Spinal Injuries Centre which is part of Southport and Ormskirk Hospital NHS Trust. Held at the Ramada hotel on 29 June and 30 June, the conference will feature guest speakers from around the world. In 2017 the centre will celebrate its 70th birthday.

Emily Hoban, who runs the Spinal Centre said:- "We are thrilled to host this conference during our 70th birthday year. There has been a spinal unit in Southport since 1947 and it has developed into an internationally recognized centre for excellence. We are honoured to welcome more than 200 delegates, experts and professionals in the field of spinal injury rehabilitation and care. Ludwig Guttmann was the founding father of care for spinal patients. He was knighted for this work and we want the conference to be a celebration of his lasting legacy."

As well as setting up the world's first spinal injuries centre in 1944, Guttmann was the founder of the Paralympic Games. Emily added:- "Anyone watching the Rio Paralympics will have been inspired by the dedication and brilliance shown by all the athletes. When the Paralympics was launched by Ludwig Guttman in 1948 it was a small event. This year more than 4,000 Olympians competed in Rio watched by an audience of millions around the globe."

Emily is looking for further sponsorship support for the Guttmann conference. If your company can help email:- emily.hoban@nhs.net. The North West Regional Spinal Injuries Centre cares for people with spinal cord injuries from Merseyside, Greater Manchester, Lancashire and Cumbria, Cheshire, parts of North Wales and the Isle of Man. It is an internationally recognised centre of excellence for the treatment of people with high cervical spinal cord injury.
£5 Notes is adding value to some people's pockets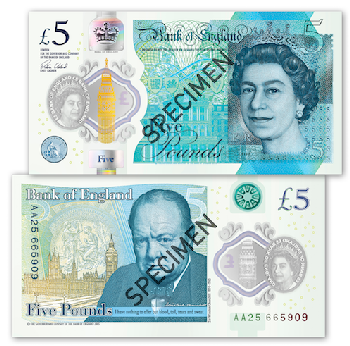 THE new £5 note that has come into circulation is smaller, tougher and made of polymer, but they might also be worth a LOT more than £5! Some collectors are paying more than £200 to get their hands on the Bank of England's first plastic notes. Yes, £500! The first notes left distribution centres shortly after midnight on 13 September 2016, so much for the 13th being unlucky! For some it was proving to be a very profitable one. Have you seen a new £5 note? Have you got 1? Are you selling 1? Please let us know via email your thoughts and views on this topic. The photo in this report is with thanks to the Bank of England and copyright remains with them.

Royal Liverpool Hospital City Centre take over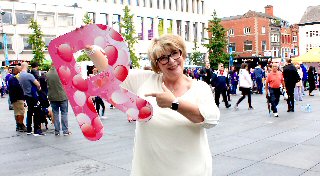 AS part of the build up to the new Royal Liverpool University Hospital, staff from the hospital took to the streets of Liverpool to showcase plans for the new Royal Hospital and to promote its official charity:- 'R Charity' and it's £10 million Appeal. The City Centre event saw the staff from R Charity take over the busiest streets throughout Liverpool Town Centre. The money from the £10million appeal will be invested into the latest in high technology equipment for diagnoses and treatments that will help save lives, and to create environments that provide fantastic comfort and conveniences for patients and families. Some of the key areas looking to benefit from the £10 million appeal include:-

► The Breast Unit, the money will enable the Trust to purchase 3 new mammography units, including 2 with the latest tomosynthesis technology, meaning patients can be diagnosed and treated at an earlier stage.

► Critical Care, patients and relatives are very vulnerable when needing critical care. R Charity will help to equip us with the latest technology, and furnish us to a high standard to improve the comfort and privacy of patients and relatives.

► Stroke Unit, getting stroke patients out of bed and back home to live a normal life as soon as possible is at the heart of all we do. The Appeal will fund a new telemetry monitoring system allowing us to improve patient safety and search for the causes of stroke, plus a suite of new specialist chairs which help severely disabled stroke patients sit out of bed and make the first steps towards recovery.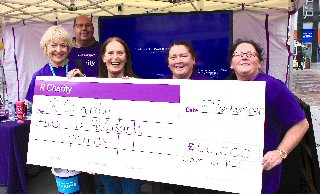 The developers of the new hospital, Carillion have been working hard to raise funds for R Charity and their £10million Appeal, raising £56,000, so the day was also an opportunity to officially celebrate this amazing achievement. In Williamson Square shoppers were invited to watch a video, which followed construction staff around the new development so that people could see for themselves the work that is being done to the interior of the new Hospital.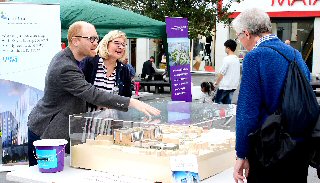 Throughout the day, R Charity volunteers collected donations and there was even a 'royal' appearance from R Charity's mascot Roy, who posed for photographs with members of the public. A live performance from the choir from Sing Me Merseyside was led by Billy Hui and featured a guitar solo for their version of Bohemian Rhapsody. This was followed by a 'royal' flash mob performed by the extremely talented MD Productions which left everyone feeling really excited; some people from the crowd actually joined in! Pauline Daniels, local comedienne came along to promote the Pink Party campaign and encourage local sign ups and Maggie May's also provided their signature dish of 'scouse' to support the event.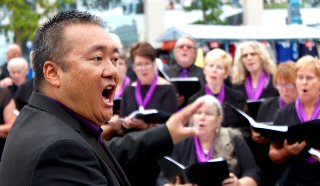 Aimee Clare, senior fundraising officer for R Charity said:- "It was so wonderful to see so many come together to promote R Charity and our new hospital. R Charity is working really hard to raise £10 Million to invest into new life saving equipment, services and comforting environments for our new hospital, its patients and their families. So, to promote this and our need for support in our City centre was a great opportunity. We are extremely grateful to everyone involved. If you would like to donate, please text RCHA17 £5 to 70070"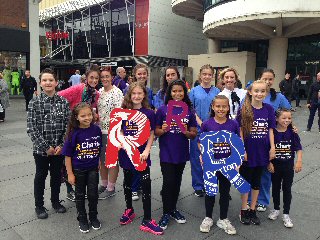 Alison Valentine, community regeneration manager at Carillion added:- "We were delighted to be part of the day and to mark the charitable partnership with the presentation of our cheque for £56,000 towards the £10million appeal. We have hosted a number of community events to try and fundraise as much as possible for Royal Liverpool University Hospital R Charity's £10million Appeal. We really enjoyed getting involved in the day and it gave us a great opportunity to chat to people about the new Royal Liverpool Hospital, and the facilities that patients are set to benefit from in the future."

To view the video of MD's Productions flash mob head over to our Facebook Page. For more information on how you can support the £10m appeal visit online or you can contact the team on:- 0151 706 3172.