Family Events in Merseyside for Halloween 2017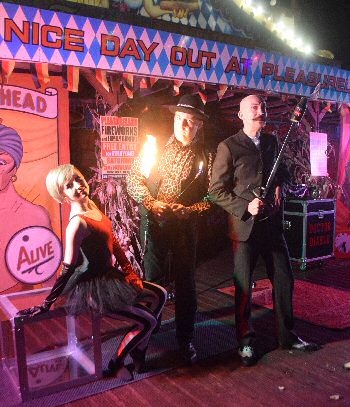 HALLOWEEN is just around the corner and here at Southport Reporter, we decided to take a look at some fun things you can do in Merseyside over this spookiest time of the year. These are just a few of the many local, spine tingling events for you and the family to go to:-

► Southport Halloween Festival

The whole of Southport Town Centre will be alive with spooky fun as the annual Halloween festival takes place over 21 October 2017 to 29 October 2017. This event offers a wide range of activities for all ages, across various venues within the Town's Center. Highlights will include a 16 Foot spider stalking the streets and looking for a playmate... A sensational monster petting zoo, fire walking and a very special Harry Potter day. More information can be read within in our edition, dated 23 September 2017, as well as on the Festival's Facebook Page and website. Plus you can also follow the action on Twitter Most of these activities are FREE!!!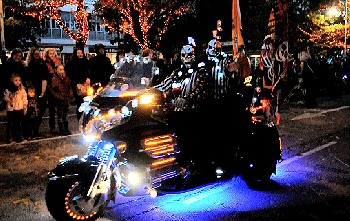 ► Southport Pleasureland

On the 14 October and 15 October 2017, the theme park's Happy Halloween spectacular will launch to the general public and runs until Sunday, 29 October 2017... Read more on our 30 September 2017 edition and also on Pleasureland's website for more information.

► The enchantment of Chester Zoo

On Saturday, 21 October 21, until Tuesday, 31 October 2017, Chester Zoo will be holding an event called:- 'The Enchantment of Chester Zoo.' The wise owls will be back again for a 2nd year that promises to be full of adventure, acrobatics, music and discovery. The event will also let the kids learn some of their favourite animals along the way. Usual Zoo admission fee only, and more information can be found online, on the Zoo's website.

► Halloween Lantern Carnival

On Sunday, 29 October 2017, from 6pm, the Trilling Halloween spectacular is coming back to a new location and is promising to be epic. Giant illuminated beasts, skeletons and dancing ghosts, deathly street bands and other monstrosities will be crawling up through the cracks of Liverpool's streets and partying like there's no tomorrow. Make sure you join them, in Liverpool City Centre. This event is FREE!!! More information can be located on the Lantern Company's website.

► Spooky Train Rides

On Sunday, 29 October 2017, the West Lancashire Light Railway (WLLR) will be holding another of its Halloween events. Halloween Special Trains will be running at:- 5pm, 5.30pm and 6pm. This is kid friendly, so if you family likes friendly spooks and are fans of steam trains, why not taking a ride on a ghost train, with all your family, at this Halloween? If you attend, keep a look out for the Tarleton Terror, the Barmy Bishop of Becconsall, the Headless Horse Rider from Hundred End, the Girlie Ghoul from Hoole and the Hound from Hell. To catch the trains, go to:- Station Road, Hesketh Bank, PR4 6SP... Fares for 1 return ride only and cost as follows:- adults £3.50, children £2.50, family £9 and over 60's are just £3. For more information visit:- WestLancsRailway.Org.

► Spooky Welly Walk

ON Saturday, 21 October, in Sefton Park, Liverpool and on 28 October 2017, in Sherdley Park,in St Helens, young and old can join The Spooky Welly Walk, a 2 mile, Halloween themed, family walk with over 20 different Trick or Treat activity stations. Around 8,700 people donned their wellies and best Halloween costumes to raise £60,000 for the Roy Castle Lung Cancer Foundation. Come along and help to raise some money for patients and families living with lung cancer. There will be various stalls and entertainment including a Halloween shop, storytelling space, animal displays, creepy crafts plus food and drink. Both events are at the same times, running from:- 11am to 5pm. The event will be raising funds for the Roy Castle Lung Cancer Foundation and the costs are as follows:- Both adults and children - £4 in advance or £5 on the day and under 2's go free. To get advance tickets go to:- RoyCastle.Org

Don't forget to let us know if you have any events that we can add to our event listings guide, on Mersey Reporter, especially any for 2018, via emailing us to:- News24@MerseyReporter.com today! To see our event listings, click on here. All event information was correct as of time of publishing.