Queen In Liverpool For Maundy Thursday

Report & Photographs by Patrick Trollope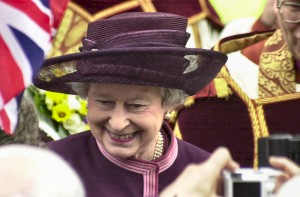 THE word "Maundy" comes from the Latin for 'command' (mandatum). It refers to the command given by Jesus at the Last Supper, that his disciples should love one another. Christ also washed the feet of his disciples before the Last Supper as a demonstration of humility. This was then continued over the ages as a tradition. It involved Christians carrying out a ceremonial washing of the feet of twelve men, on Maundy Thursday, as a commemoration of Christ's act. It has also been practiced by a number of monarchs, lords, and religious leaders, often in conjunction with a distribution of alms in the form of food and drink (dole), cloth, and money. The washing of the feet was abandoned in the 18th century by our monarchy though. To day in Britain it is still customary for the sovereign to give 'Maundy Money' out to a number of male and female pensioners. This is what happened on April 8 in Liverpool when our Queen came to Liverpool. The Queen visits a different Cathedral or Abbey every year on Maundy Thursday, but it is the first time she has chosen Liverpool's Anglican Cathedral to conduct this prestigious ceremony. 156 pensioners had the honour of receiving the specially minted silver coins from the Queen. Seventy eight men and seventy eight women, the same number as the Queen's age, received the money in the traditional red and white purses.
The Lord Mayor of Liverpool, Councillor Ron Gould, said:- "It is a wonderful honour that the Queen has chosen to visit Liverpool this year for the Maundy Thursday celebrations. I'm delighted that some of the people who make such a great contribution to our city are receiving this prestigious award from Her Majesty."
Deputy Lord Mayor, Councillor Frank Roderick, said:- "I am delighted the precipitants are receiving this Royal recognition for their tireless church and community work which inspires faith and spreads love, trust and support."

Des Wormald was on of the chosen few who received this honour as a representative of Sefton Deanery Chapter. "I'm very humbled that I was chosen to represent my church and Sefton Deanery. The Queen was lovely to meet. She did not say much, but it was a fantastic feeling to have her speak to me. I would like to thank the entire congregation of St Luke's and the others who chose me. It will be something I will never forget." Rev. Canon Alison Woodhouse of St. Luke's Church, Formby, said that Des has made a great contribution to the parish and community so it is fitting that he should receive the honour.

It is of note that Queen Elizabeth II is the first monarch to move the ceremony from London. Below are just some of the cities that have held this tradition in the past:- 1955 Southwark, 1957 St. Alban's, 1959 Windsor, 1961 Rochester, 1963 Chelmsford, 1965 Canterbury, 1967 Durham, 1969 Selby, 1971 Tewkesbury, 1972 York, 1974 Salisbury, 1975 Peterborough, 1976 Hereford, 1978 Carlisle, 1979 Winchester, 1980 Worcester, 1982 St. David's Cathedral, 1983 Exeter, 1984 Southwell, 1985 Ripon, 1986 Chichester, 1987 Ely, 1988 Lichfield, 1989 Birmingham, 1990 Newcastle, 1992 Chester, 1993 Wells, 1994 Truro, 1995 Coventry, 1996 Norwich, 1997 Bradford, 1998 Portsmouth, 1999 Bristol, 2000 Lincoln, 2001 Westminster, 2002 Canterbury, 2003 Gloucester and now in 2004 Liverpool.
All Old

Woodworking Tools

Wanted.
Workshops cleared. £100 minimum paid for NORRIS planes. Old model or pond yachts wanted. Best Prices Paid.
Phone:- TONY MURLAND on:- 01449 722992.
~hAPPY BIRTHDAY~
IF you have some one you want to say happy
birthday to for free,
then use this email address
and put them on
to us.