AN estimated 30 thousand people visited Southport for the 6th Annual British Musical Fireworks Championships, sponsored by Pleasureland and the Champion.

This year, there was a change of venue from the Marine Lake to a display on the beach opposite Marine Drive, which accommodated the ever-increasing numbers who come for these events. The weather was a little chilly, but dry and despite some delay due to the very large numbers filtering through, the crowd remained up-beat, supported by good tempered and helpful stewards, police and emergency services. Their patience was amply rewarded in the end.

Before the event, Chris Hutchinson (one of the judges) outlined how the possible points could be earned for artistic interpretation, technical merit, and choice and balance of music. They were judging for such things the variety of fireworks used, he said and he elaborated on the different types available for this type of show. Also important were such factors as to how much sky was used, scope of colour, variety and range of noises made, precision of timing along with safety. Also, what selection of music was used, how varied and imaginative it was and how well the display was synchronised with it. All the displays were controlled by electronic firing systems. The cost of each 16 minute display was in excess of £10,000! The finale typically used 10 to 20% of the materials.

The teams had all been hard at work throughout the two days, often in wet conditions, but their efforts provided truly a thrilling experience for the spectators. All 6 teams produced innovative displays, which were stunning and each was a treat in itself. Winners of the 2002 and 2003 championships, Coventry based Spitfire Pyrotechnics produced a thoughtful and exciting display and gained a well deserved second place. Manchester's Walk the Plank who finished third, also thrilled the crowd. The three other highly respectable performances were given by Dragon Dynasty Fireworks of Bedfordshire, Millennium Pyrotechnics from Salisbury and Shellscape Pyrotechnics from Berkshire. Few people, however, would have disagreed with the panel's choice for 1st place, Allstar fireworks of Hillington, Middlesex. The music was diverse and innovative, including such numbers as, '54321', 'Thunderbirds Are Go', 'Lord of the Dance' and finished with music from Babe the Movie. The synchronisation was so effective and there were so many interesting changes in level, colour and sound, as well as a multitude of effects, cleverly put together. At times the whole sky was alive with cascades of colour, falling gold and silver rain plus snow flakes. Fantastic! Heartfelt congratulations to all.
A director of Allstar Fireworks, Michael Jupp, said:- "We are absolutely thrilled and surprised. We knew we up against some really tough ...report continued on next page... NEXT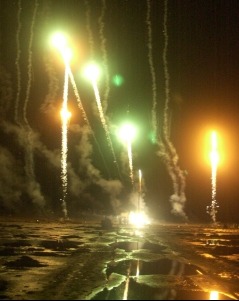 13 pages of photographs to come, just read on...!
Click to see page 1 of 13.
See more photographs and the rest of the report above, click on the green button below:-
If green box above does not show, you must download a new edition of Java. To get it just use this link:- http://java.com/en/index.jsp