Fatal road traffic collision on the Coastal Road, Ainsdale
Report by Merseyside Police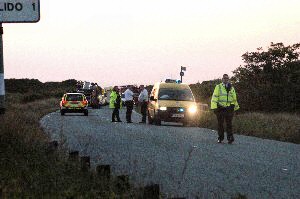 MERSEYSIDE Police are appealing for witnesses to a fatal road traffic collision, which occurred on the Coastal Road, Ainsdale at 8:40pm l on Tuesday 7 June 2005.

The driver of a red Ford Escort was in collision with a tree in a ditch and suffered extensive injuries, which proved fatal at the scene. There were no other vehicles involved.

The deceased is a 30 year old local man.

Anyone who witnessed the incident is asked to contact traffic police on 0151 777 5730 or Crimestoppers on 0800 555 111.
Warning to drivers
IT IT has not been made clear what caused the accidents on the Coastal Road, but a warning has been issued to motorist travelling around Merseyside that they should drive very carefully when resurfacing work has, or is being carried out. An advanced driver said that:-An advanced driver said that:- "It is imperative that road users obey the warning signs and keep speeds down on newly surfaced roads. In recent weeks, all over Merseyside, road works have sprung up in many places and the chance of your car being involved in an accident is increased if you do not take precautions. Remember, keep your speed down and also take notice that your stopping distances and your vehicles grip to the road surface can be significantly decreased when loose chippings are on the road."
Tragic Death of Charity Worker
IT is with great sadness that we announce the death of Mr. B Healey who tirelessly worked for St John Ambulance, on Merseyside. He died on Friday night and will be sorely missed by all the people he has helped. We give our deepest sympathies to his family.
~HAPPY BIRTHDAY~

Jeff Woods, haPPy birthday from your wife. xXx

IF you have someone you want to say happy birthday to for free, then use this email address & send the names to us by emailing us to:- birthdays@southportreporter.com

Click on to log on to your

LOCAL online Radio Station... TODAY!