JUST BUG FUN!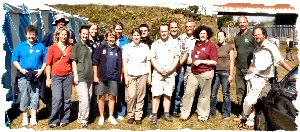 HUNDREDS of nature lovers descended onto the dunes on Wednesday 10 August, as English Nature held an Open Day at the Ainsdale National Nature Reserve. The aim was to show local people what English Nature does and just what a fantastic area we have for wildlife. The event was hailed a huge success by its organisers, English Nature. At the event, adults and children alike got to see and do all types of things from bug hunts and searching for sand lizards to watching the sheep dogs working on the reserve. It was all fun under the sun and even the local fire engine from Southport came down and was joined by a police quad bike.
"We don't often get the chance to show what we do and what we are protecting to the public. As large parts of this nature reserve are not open to the public, most people do not see what we are doing and do not know why we are doing it. This Open Day was aimed at families with young children, to give the children an entertaining and educational experience, which will help them develop an appreciation of nature and also to show adults just what the nature reserve is all about." An English Nature ranger told us.
If the green box above does not show, you must download a new edition of Java. To get it just use this link:- java.com/en/index.jsp
~HAPPY BIRTHDAY~
IF you have someone you want to say happy birthday to for free, then use this email address & send the names to us by emailing us to:- birthdays@southportreporter.com
To our very own Dorothy we wish you all the best on your wedding day.

Lots of love, from all of us on your hen party!
If you have a celebration you want us to feature, email us today at:- new24@southportreporter.com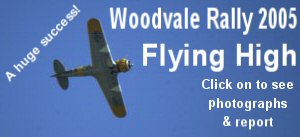 STEAM ON IN TO THIS YEARS RAILWAY SHOW!!!!
Creamfields 2005 Announced
Job Advert:- Southport Sandwitch Bar
Animal extravaganza
Clean Sweep Of Waste Cheats
BRITS LEAVE HOME SECURITY TO CHANCE
Brits Abroad - Sex, Lies & Swinging?
SINGING TO THE HEAVENS
Vue Film Showing Times.
Historic halls on show
HELP THE LEGION SAY 'THANK-YOU' TO VETERANS FROM MERSEYSIDE WHO FOUGHT FOR OUR FREEDOM
17,000 raised by 5-a-side Football Challenge
Prince's Trust Recruiting
Birds from the dock to the bay
Charitable Trio Score with Kwik Football Stadium Tour
BRITS LEAVE HOME SECURITY TO CHANCE
Wirral company helps beat greenhouse gas emissions
Students need a degree of tax awareness
Green fingered group gets ready for summer garden success
Woodvale Rally flying High
Big names to play Pop at Philharmonic Hall in Liverpool
"Beatlemania" hits City!
Letters to Editor:- "Matthew Street Festival"
Pictures mean Prizes for North West Kids with New Drawing Competition
SOUTHPORT AIR SHOW IS SHOWCASE FOR RESERVE FORCES.
Letters to Editor:- "Meningitis Trust's cross Morecambe Bay walk"
LIVERPOOL MUSEUM CELEBRATES NEW FUNDING
Pleasureland Memories
Is this the way to ... Mathew Street!
4x4s - A nation divided
IT'S FOR YOO-HOO!
Children's centre set for green light
LIVERPOOL GIRL GAMERs ARE TAKING ON THE BOYS!
Just Bug fun!