MUSIC ZONE OPENS SOUTHPORT STORE!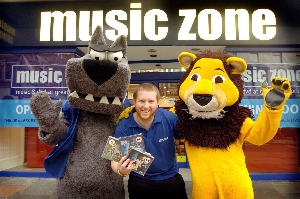 MUSIC Zone, the UK's great value music and DVD retailer, has brought its new store format to Southport. The store launches this week on Chapel Street and brings investment of £200,000 and 10 jobs to the town. To mark its arrival Music Zone has lined up a grand opening weekend of celebrations. Southport FC mascot Sandy The Lion is teaming up with Music Zone's Underdog to meet and greet shoppers with special giveaways on Saturday 29 October.

A promotions team will also be out in town giving customers the opportunity to save £60 on a mix of CDs and DVDs including the latest albums by The Gorillaz, Oasis and rapper Kanye West. Horror classics Dawn Of The Dead and Texas Chainsaw Massacre and special editions of The Deer Hunter and Casino are among the DVDs on offer.

Geoff Pearson, Music Zone store manager said:- "We're ready for a busy opening weekend that promises to be great fun. Our customers will enjoy a store where products are easy to find, at great value prices and with help from knowledgeable staff."

The 2,070 sq ft store reflects Music Zone's express shopping experience which combines store size, location, layout and product choice to create a smart, easy and time-saving way to buy great value music and DVDs.

Southport brings the number of stores in Music Zone's North West heartland to 28 in a national network of 56.

Music Zone currently employs more than 500 people and annual sales for the financial year to June were £85m. The company's overall strategy is to grow its store network to 100 and double sales to £150m in the next three years.
Derailed Train at Central Station, Liverpool
MERSEYSIDE Police where informed at about 6pm on the 26 October about a Wirral bound train that had been de-railed. The train, was de-railed about 200m from Central Station between Lime Street and Central.

Police officers attended the scene with other members of the emergency services and implemented a multi agency strategy to deal with the incident.
119 people and a dog on the train had been taken to safety. Two elderly people who were treated at the scene by paramedics. A guard from the train reported a minor neck injury and was taken to hospital for a check up.
An investigation into the incident is now being conducted.