LIVERPOOL'S DRAGON BOAT TEAM WIN O2 IT'S YOUR COMMUNITY AWARDS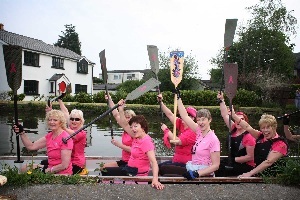 IT'S Your Community has supported many community-building sports projects in the past twelve months. But this particular sports programme is unique.

Liverpool is the home to and base of the first UK breast cancer Dragon Boat Team. And on Saturday, 10 May 2008, 22 women climbed into their boat and paddled 26 miles through the Lydiate Canal. Their effort was to raise national awareness of breast cancer and the benefits that Dragon Boat racing brings to women (and men) with lymphoedema, a side effect of breast cancer treatment.

It's Your Community has supported their effort with a £1000 award to buy equipment to help them compete in Europe at competition level later this year.

The team's 'Marathon' paddle began at 9am at the Running Horse Pub and the team stopped along the Lydiate Canal to drop off and take on other supporters. Margie Shields discovered Dragon Race boating three years ago and paddled the entire distance on Saturday.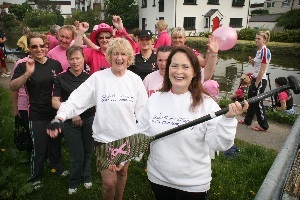 "It wouldn't be an exaggeration to say that Dragon Boat racing saved my life. We are literally a floating support group but we don't only race for ourselves, several of our team race on the UK international team, that's how strong it makes us!" said Margie.

Dragon Boat Racing has ancient Chinese origins with a history going back more than 2000 years. The first dragon boaters were Chinese villagers who raced to avert misfortune and encourage the rains needed for prosperity. Today Dragon Boat racing involves teams of up to twenty paddlers in a 40 foot boat with a drummer and helm, paddling frantically to beat the other teams down the course.

But there is another side to dragon boat racing which is even more important. In the 1990s a Canadian physician named Don Mckenzie found that repetitive upper body exercise in women treated for breast cancer improved chances of fitness and survival. Since 1996, hundreds of breast cancer survivors across the world have formed dragon boat teams, paddling and racing regularly for health, friendship and spiritual support.
Saturday's 'Marathon' paddle is run by a group called Amathus Pool for Life and is made up of men and women who have either suffered from or are supporters of people with breast cancer, and they compete in competitions all over the world. As well as helping to prevent lymphoedema, Dragon boating is beneficial to overall health and stimulates the mind towards positive thinking, so this is a wonderful project with many positive aspects, which It's Your Community is proud to support.

"The awards are designed to make a difference to communities all over the UK by providing the funds to get ideas off the ground. We want to build a network of projects across the country that collectively makes a difference. Applying for an It's Your Community award is simple and fast, just log on to itsyourcommunity.co.uk, get inspired and see what you can do." O2's Community Investment Manager Helen Parker explained.

Each month up to 60 projects throughout the UK receive up to £1000 of It's Your Community funding.
Awards must be for the benefit of the community or to build community spirit.
For more information about the hundreds of projects which have already received an award and how to apply for one, go to the It's Your Community website.