Open Golf 2008 A Retrospective Look
Report by Sally Devine & Photos by Patrick Trollope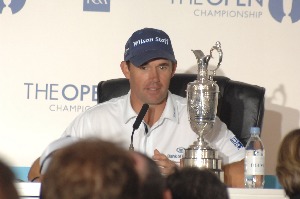 WHAT a week is all that can be said about the Open Golf Championship 2008 and Southport and Royal Birkdale have reaped the rewards. It is amazing to think that it was 10 years since the Open last came to town and despite the weather attendance records during the week have been over the 200,000 mark. This event has really lifted the area, and given a boost to many local businesses. For example accommodation was at a premium through out the area, restaurants were fully booked and local taxi firms had a much needed boost in customers. With the Tall Ships being in, it is estimated that the Merseyside as a region has received a £60million pound boost to the economy. Behind the scenes though, a large army of volunteers have ensured the event ran smoothly, local school children have supplied the Biffa an army who picked up the litter. Over 200 marshals have controlled the crowds daily and the British and International Golf Green Keepers Association have provided members from all over the world to assist Royal Birkdale's course manager Chris Whittle. They ensure that the bunkers are well prepared and keep statistics on these such as which player hit the most sand which hole took the most victims and any stories of interest which occurred during their round. Green Keepers surprisingly had travelled from places such as Hawaii, Sweden and an ex-pat from Australia, just to volunteer to help.

The weather might have been poor, but the play was amazingly good through out the event... At the start of the 2008 Open many had Sergio Garcia and Ernie Els as favourites, but was not to be. Wind rulings for this year such as Sundays round were issued to all officials. Some of the tee positions were moved forward to assist the players on certain holes such as the 6th. Leading amateur Chris Wood managed to negotiate the windy conditions and finished in joint 5th position. At one stage he was three shots off the lead. In the end the surprise was that the 2007 Open Championship winner Padraig Harrington, despite injury, was yet again victorious.

Second placed Englishman Ian Poulter said:- "You know at the start of the day you have a score in mind. I shot what I thought was a good round, I missed a good opportunity on 13 from 5 feet and I go and three putt 17 which is a bit frustrating and perhaps it may have pushed Paddy a bit harder but every credit to him."

Greg Norman told the media:- "Obviously I am disappointed it was a tough day, but I can walk away from here with my head held high because I hung in there. I got a couple of lip-outs which could have made all the difference if they had gone in." Greg is currently enjoying an extended honeymoon at Royal Birkdale with ex-Wimbledon champion Chris Evert. This was the first tournament he had played for a while but will take part in next weeks Senoir British Open.

Englishman Simon Wakefield also came pretty close to gate crashing the party, he was up with the leaders on the back nine but said:- "I hit a good tee shot down 17 and then lost the ball. Then I leaked a three iron right and the wind caught that one and took it out of bounds. My game is good enough its the first time I have faltered under pressure I made a silly bogey on the 15th from nowhere with a couple of amateurish mistakes."
Click here to see more photographs
Also to see our reports we issued over the Open and to see yet our daily photo reports, click here.