The Southport Flower Show 2008...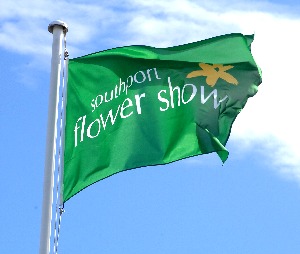 VICTORIA Park's 34-acres again provided the venue for the 79 Southport Flower Show, which proved to be another highly successful 4 day event, held over 21 August to 24 August 2008. Officially opened by Coleen Nolan, this year's theme centred on Southport's support of Liverpool's 08 Capital of Culture. Despite an indifferent summer, we were luckier than expected; the weather proved warm and despite showers, there was enough welcome sunshine to enjoy too. Whilst Thursday and Friday seemed perhaps a little quieter than in past years, this did afford the opportunity for visitors to see the exhibits more clearly, without pressure. Saturday and Sunday were much busier. The ambience was welcoming, the crowd happy and relaxed, if perhaps a little thriftier this year, wandering around the ground and its many attractions.

Prime targets were, of course, the big marquees, where the exhibits were on show and people could admire the handiwork; agreeing with the judges on some awards, expressing their own views on others. Delights of colour and shape abounded both here and on the outside exhibits. Beauty in form, perfection in individual blooms, imagination, originality, ingenuity, in displays and choice of materials, some leavened by flashes of humour and even absurdity. Above all, this showed evidence of the many months of commitment and hard work packed all around us. Trophies and prizes were indeed won, but every exhibitor was a winner with the public, the standard was so good.

Large exhibits, such as local authorities' displays, gave plenty to look at, from Liverpool's fascinating presentation of Mr Roscoe's Garden, based on the collection of Mr Roscoe, who founded the Liverpool Botanical Collection in 1803. There was truly an apt and inspiring way to support Liverpool's Year. The more one looked, the more one discovered. It is to be hoped that the supporters are able to go on displaying this treasure in years to come and are well supported in their efforts. HM Prison Thorncross' Skyline of Dreams reflected Liverpool's cultural diversity and famous buildings and the vibrant garden of HM Prison, Kirkham thrilled the eye with its striking colours and amusing Diddymen and their thatched cottage. Sefton's interpretation of aspects of Liverpool's scenes and culture were reflected elsewhere in outside exhibits, as were historic themes, football and, of course, music.

The large outdoor gardens showed great diversity in interpretation from Rock Gardens with pleasing cascades to pools and platforms, flowers representing the football theme and to one intriguing piece in which Liverpool itself was literally represented by a liver shaped pool! So many people produced stunning displays for our delectation! The larger displays did not eclipse the smaller offerings however, and visitors pored over vases of flowers, prize vegetables, cacti, bonsai trees, themed competition entries; all manner of fascinating productions!

The children's and student's gardens were amazing. Professor David Bellamy, was most encouraging when he presented the winners with their prizes. From indigenous plants to model boats on a miniRiver Mersey, they were most ingenious and offered hope for gardening in the future. On Sunday, children were challenged to build a garden from scratch in one and a half hours under the watchful eye of Professor Bellamy, OBE, who congratulated them on completion: a feat, which was well accomplished. David Bellamy also commented that the Southport Flower Show was so strong in the support all contributors offered each other from amateur and professional, young to more experienced. Indeed, he and fellow patron, Professor Stefan Buczhacki, Roddy Llewellyn and Diarmuid Gavin along with all the committee have worked hard to present this special event.

Throughout the 4 days regular gardeners' advice question time and lectures were held and exhibitors were also keen to supply information and hints to enthusiasts. Dotted about the show ground too there were many garden suppliers peddling their wares but also often knowledgeable about different horticulture and gardening themselves.

Apart from the competitive and non-competitive entries, commercial, society, and authority or amateur, there was a multitude of other displays to grab the attention. One particularly striking exhibit was the unique sculpture entirely composed of pink, yes pink Blu-tack comprising an arrangement of flowers designed by Elizabeth Thompson and skilfully crafted by Edmund Woodward, to raise money for the Breast Cancer Campaign.

Also distributed around were a wide variety of emporia selling a bewildering array of garden ornaments and knickknacks, clothes, household utensils, wines, holidays and services, and most welcome, a large variety of beguiling food purveyors issuing tantalising smells to mingle with floral perfumes and to wet the appetite quite literally.

Other exhibits, including those in a large marquee, offered exquisite rural craft work from carving to jewellery, pretty clothes to ornaments, a sculpture area and much else. Beekeepers had people fascinated watching the colony going about its business. Honey was available and tastes even better when one appreciates all that goes into its production.

Other exhibitors offered advice on a myriad of questions on beauty and health issues from homeopathy to mobility aids and much more. Sefton Walk and Cycling group promoted their contribution to achieving more active lifestyles. There was so much to do and see around the stalls, it's easy to miss mentioning some but it all provided great entertainment. Hopefully stall-holders managed to sell sufficient, although it seemed that people were slightly less willing to spend this year.

Amongst other interests was the photography competition tent displaying some remarkable shots of wild life and nature, which made for excellent viewing. There was even a bowling competition. One lady there said that it is a big plus that there are plenty of places to sit and relax in the park, unlike at other shows.

Throughout the 4 days, regular events were held in the arena. The HM Dog display team was both interesting and amusing. The ease belying the work which must have gone beforehand, both human and canine! Sonny and Rainbow, talented clowns, entertained the audiences, both young and old, with their comic routine. The Vanda Brothers produced thrilling, if perhaps nerve-racking antics, on a whirling contraption high above. The Hawk Experience was an informative and fascinating chance to watch the true masters of the sky, the hawks, in action; soaring high above the crowd and off into freedom, even on Saturday going AWOL for some time but being retrieved from Birkdale in time for food!
Handlers make the complex look so easy, but the birds are the real stars. Morris Dancers added their expertise on Saturday. ...continued...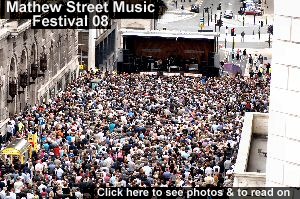 --- MORE NEWS REPORTS BELOW ---
Lord Mayor flies Olympic flag
TRANMERE ROVERS FANS URGED TO "ENJOY THE MATCH"
SALES GROWTH AT LIVERPOOL'S METQUARTER
More Flower Show 08 Photographs
SCAMS
Milk may reduce exercise-induced muscle damage
Southport Weekender 43, November 2008
An invitation to join the team
Caesarean babies more likely to have Type 1 diabetes
Dreaming of a Church Wedding? Now more churches can say 'yes'
Increase in fuel surcharge due to World fuel cost increases
Safer towing message after spate of incidents
Search For A Star 2008, Heat 2
Clock is ticking for Merseyside grant scheme
UNISON'S UNSUNG FIRE SERVICE SUPPORT STAFF COMPETE IN WORLD FIREFIGHTERS GAMES AND SHOW THAT WORKING FOR A FIRE BRIGADE ISN'T JUST ABOUT FIGHTING FIRES
PARLIAMENT'S COLLAPSE CREATES CHANCE FOR CHANGE
Have a say on health and social care
TICKET TOUTS OFFERING NOTHING BUT A RAW DEAL
Legal warning for novice landlords
Intergenerational ties stronger than people think
Many over-40s are hamstrung by daily chores as they age, but choose to struggle on
CITY SENDS CONDOLENCES TO MADRID
MERSEY RECYCLING FIGURES ON THE UP, BUT LOCAL WASTE OFFICIALS SAY MORE CAN BE DONE
BUS COMPANY GIVES TEACHERS A HELPING HAND
Merseyside Community Games 2008
PROTECT THE HUMAN WEEK: PARTY TIME FOR HUMAN RIGHTS
Cheshire M6 overnight closure
The next meeting of the Southport Access For Everyone forum
LSC APPOINTS REGIONAL COUNCIL IN THE NORTH WEST
Mathew Street Music Festival 2008
Liverpool surpasses GCSE landmark
"
CLAIM IT TO GAIN IT" SAYS HELP THE AGED
On yer bike
Final Southport Summer Showcases 2008
...continued... On the Band Stand, a diverse range of music and a fill-in comedy act derived good audiences, especially, when the sun was out, the renowned Wingates Brass Band acquitted itself well as did the Blue Bells a steel drum band and Kings of Rhythm, Liverpool Swing Band and Streetwaves. Sound pulsated across the show ground, all adding that magical, feel-good factor of a good day out. On Saturday, a special event took place, in which Roddy Llewellyn's signed, gardening themed braces were auctioned for a children's charity; this was an amusing interlude with a good outcome -- £50 towards the fund.

Throughout the Show various acts patrolled the ground, two "flowers" on stilts, clowns on a 2 way bicycle, another, with a ladder balanced on a ball and hilarious "singing nun" riding around playing a key-board and cheerily addressing the crowd. Children were also well catered for with a crèche with activities and an outside play area.

Ladies' Day on Saturday saw a fashion show and a competition for the best-dressed lady. It was a huge success and enjoyed by models and guests alike, as well as providing a flurry of stylishly dressed ladies to adorn the crowd.

The organisers are to be congratulated on a great show but also the behind the scenes workers; the many individuals, who got this show together. All the exhibitors, artists and the stewards and the emergency services, who kept the show going, deserve our thanks too. In the words of Wallace and Gromit, "A grand day out!".

More photos and text about this event next week...
Find out what sex is the best Male or Female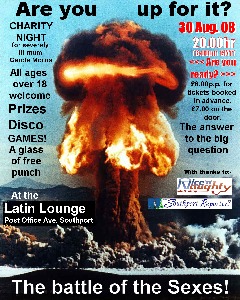 DO you know who is best... Find out at the Battle Of The Sexes at the Latin Lounge, on Post Office Ave. Southport.
The night will be full of entertainment all designed to find out just who is better, male or female. With a Disco, Games and a free glass of Punch, the night will be a real blast... So are you up for it?
All the money raised will go towards the medical treatment of Carol Morris, who is a Southport Mum, who is severely ill, with Cancer. Tickets are £6.00 if booked in advance and £7.00 on the door. Strictly 18 and over.
The night is supported by Southport's Nice 'n' Noughty Adult Shop and ourselves at PBT Media Relations Ltd. - Southport Reporter.

| | |
| --- | --- |
| | |