"No to Violence" March 2008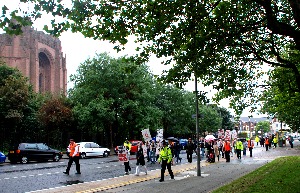 SUNDAY, 31 August 2008 saw people from all around Merseyside and even further afield, taking to the streets in protest. A march had been organised by the National Schools Campaign, Termtime. Although this demonstration represents just Liverpool, this is a national problem of ever increasing proportions and was aimed at increasing awareness and showing the government and the powers- that- be that the people urgently wish action to be taken to deal with this issue. Termtime are lobbying for tougher sentences but also for more constructive things for young people to do as much of the negative behaviour stems from boredom. Termtime is also there to advise and runs its own magazine containing much factual information in palatable form. Their message to youngsters and also to their families is, Don't be afraid to talk. If children can't talk to family or schools, Termtime are willing to listen. It seeks to get people actively engaged in pursuing a solution.

It was heartening to see teenagers and young adults join those of older generations to stand up and say NO to Violence, and taking an active stance in the community. The miserable weather undoubtedly will have deterred some that might otherwise have joined the march but, despite the rain, the campaigners strode out briskly from the concourse of the Anglican Cathedral, through the city streets down to finish in Derby Square. There they, and others who had joined them, were addressed by the organisers and then, eloquently, by a lady who has suffered the tragic experience of losing a child to knife crime. She stated that raising awareness was essential and campaigns such as this did that. She exhorted all parents to talk to their children about knife crime and violence, and if their children had a knife it was their responsibility to deal with it! Schools also had a part top play, especially in relation to raising drug and alcohol awareness. We were all in this together. She commented that both victims and offenders were getting younger and younger but that the majority of young people are decent and want things to improve. It is only a small minority who seek to bully, threaten and kill. Now youths are themselves making a stand. They want violence off the streets. "You are the future", she said; she was proud of them, doing
something like coming on the march, to make their voices heard - "NO to Violence!"

We also heard from Alex Holmes, now in his 20s, who was bullied himself at school but bravely decided whilst still a pupil to do something constructive about it. He sees bullying as a root cause of the escalating violence we are seeing today. We must change this culture now. After leaving school he joined with MTV in a Beat the Bully campaign, aided by Dame Kelly Holmes (no relation). The young need positive peers as visible role models to empower them. Schools could help by teaching life skills and reinforcing positive behaviour. Government should make funds available for this to be done in after-school projects too. Everyone has a part to play in tackling this problem.

Next to address the crowd was Dean Sullivan, ex-Brookside actor, on behalf of City Talk, who remarked that it was unbelievable that people were still facing bullying today but that they need not face the problem alone. The day's meeting showed that such support was really there waiting. He later added that he was pleased to be able to help the campaign.

The meeting finished with the familiar, and appropriate, "You'll Never Walk Alone" and there was a petition to be signed, for presentation to Downing Street.

Click here to see more photographs taken at this event.

For further information about the campaign and/or for advice and assistance, log on to www.termtime.com.
| | |
| --- | --- |
| | |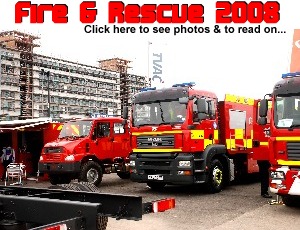 --- MORE NEWS REPORTS BELOW ---
Rosetta spacecraft meets asteroid Steins
HAVE YOUR SAY ON LIVERPOOL'S NEW PUBLIC ART MURAL CELEBRATING THE LINKS BETWEEN LIVERPOOL AND IRELAND
Letters to the Editor:- "New martial arts club in Southport"
Charity family fun day to get the heart beat racing in Birkenhead
THE 8th WONDER OF THE WORLD COMES TO LIVERPOOL
EDGE HILL JUDGED TO BE 'OUTSTANDING'
WRVS launch 2 new fruit and vegetable co-operatives in Southport
Family fun at Transport through the Ages
PARENT & TODDLER GROUP STARTING IN ST. GABRIEL'S WARD 6th SEPTEMBER AT THE OLD SCHOOL HOUSE, HUYTON
All systems go for Alsop school
SOUTHPORT BOY STEPS FORWARD TO MAKE A GREAT SAVE AT MANCHESTER CITY
Fire & Rescue 2008
BT EMPLOYEES IN NORTH WEST REWARDED FOR WORKING WITH LOCAL COMMUNITIES
NO SEX PLEASE, WE'RE SNACKING
St. Helens in diabetes walk
RAIL STRATEGY SIGNALS A BETTER RAILWAY FOR LANCASHIRE AND CUMBRIA
Mathew Street Music Festival 2008 - Photographic Report Part 2
The true meaning of green
Popular Saturday Morning Classes return!
Beatles Story announces The Beatles in India festival!
PEOPLE IN MERSEYSIDE URGED TO SIGN UP FOR THE START LINE
Craven Minor JFL New 2008/09 Season
CREAMFIELDS 2008
"No to Violence" March 2008
International Firefighters' Games
Lord Street brought to a standstill
Southport Flower Show 2008 - Part 2
Battle of the Sexes Charity Night!
This weeks Funny - Dooms Day!
BBC Children in Need
BOOST TO WATER SUPPLIES IN SOUTHPORT
Missing - Ron Ferris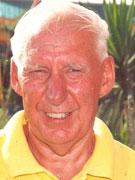 MERSEYSIDE Police are becoming increasingly concerned for the welfare of a 76 year old man called Ron Ferris, who has been missing since 7pm on Thursday, 28 August 2008. Ron was last seen outside the Iceland store on Marion Way, Netherton, by his wife, who was shopping in the store. Ron suffers from a mild form of Alzheimer's and has a black terrier puppy, called Poppy, with him. The puppy is tagged with a contact number. He has been missing all night, and there is significant concern for his welfare. Ron is described as white, 5ft 7" tall and of slim build, with grey/blue eyes and short white hair, and a Liverpool accent. He was wearing grey trousers, a grey cardigan and a green body warmer. Ron is known to visit Marion Way, Marion Park, the canal from Cooksons Bridge to Swifts Lane, Rimrose Valley Park, the Strand Shopping Centre Bootle and the Bootle area in general. Merseyside Police would urge Ron or anyone who has any information regarding his whereabouts are being asked to call Merseyside Police on 0151 777 4100.