Is out heritage Ugly?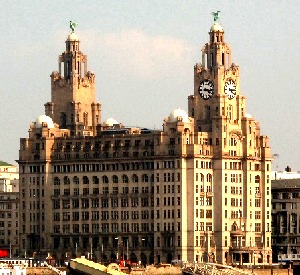 A national blacklist of ugly and dysfunctional buildings that should be demolished and replaced according to a report out this week! The report clams that the Liverpool Liver Building and Liverpool Catholic Cathedral are on the list of the worst buildings... More next week!!!
Your views please for next weeks issue! Send them to news24@southportreporter.com or you can leave views by via voice message on our Skype line.
Airport team head off to Kuala Lumpur in search of business
A delegation from Liverpool John Lennon Airport accompanied by a representative from The Mersey Partnership are in Kuala Lumpur, in Malaysia to attend the 14th World Route Development Forum taking place between 12 October 2008 to 14 October 2008.

This annual event brings together hundreds of airports from across the globe and over 300 of the world's top airlines. The Forum gives airports the ability to briefly meet a number of airlines and explore what route development opportunities might be available.

In addition to promoting the benefits and capabilities of the Airport to prospective airlines, it is also an important opportunity to highlight the success of the Liverpool City Region through its recent economic regeneration, inward investment and tourism growth. It is for this reason that The Mersey Partnership will accompany Airport personnel to sell the benefits of the wider region.

The Airport already has some 40 meetings scheduled to take place with airlines from across Europe, Asia, USA and the Middle East to explore the potential for new flight connections to Liverpool. Further interest is expected to be gained via the Airport's stand at the major exhibition that accompanies the Forum.

Robin Tudor, Head of PR for Airport owners, the Peel Airports Group commented:- "This event can best be described as 'speed dating' for airports and airlines.
If the airlines like what we have to say in our 20 minute sales pitch, then a relationship can be established that can lead to more business in the future.

It is a great opportunity to be able to speak face to face with airlines from all over the world in an extremely cost effective way.
It also lets us get the message to them about all the great things happening in the region and how Liverpool Airport can help them deliver access for their passengers to and from the region."