Professional racing driver Matt Neal takes us for a Spin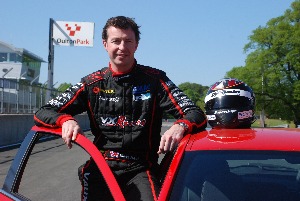 THIS week we were invited to Oulton Park to have a driving lesson with a professional racing driver, Matt Neal from BTCC, so we could not turn that one down, could we? We headed over to take a look at what was going on and to find out more about what BTCC will race later on this month at the Oulton track. This race track is the nearest professional racing track, of its class, to Merseyside and it has lots of connections, being near the borders of Chester and Merseyside; so it is no surprise to see many of the media from the region attending on a normal day. This day, however, it was kept hush, hush with only a few selected to go along. Just before we got started, Oulton Park's senior driving tutor took us for a quick spin around this picturesque racing circuit to show us their recently obtained new BMW cars for corporate events. More on that very soon. Then there appeared on the track a road going Vauxhall Astra VXR 888 road car that had just been driven up to Oulton Park by 4 young ladies from Silverstone.

At first glance this car looked like it was going to be bit of a come down after the power of the BMW, but size and looks were deceptive. In the hands of Matt Neal, this car was put through its paces and then, by chance, two well known two wheel stars were brought onto the track. Beijing Gold medallist and 2008 World Champion, Ed Clancy, and triple Olympic medallist and double World Champion, Rob Hayles, were then taken for a spin and after a quick change over, both were soon taking Matt Neal around the track in the car.

After doing it, both said:- "Now that was amazing!" One of them added, off the record:- "I want one now...", however as it was off the record we will not say who it was... Then it was time for the media to have a Masterclass by the VX Racing driver and BTCC current championship leader, Neal. Sadly we never did find out, after a long day, who was the faster out of the two champion cyclists...

Later this week we are adding an amazing video to Southport.TV of a lap around the track by Matt Neal and also exclusive interviews with both Ed Clancy and Rob Hayles. This was truly a perfect preview for the Oulton Park BTCC round at the end of May (30 May to 31 May 2009). We would not only like to thank Matt Neal, Ed Clancy and Rob Hayles, but also the staff at Oulton Park, Vauxhall and ID PR and Marketing Ltd. for an amazing day.
Click here to see for more photographs...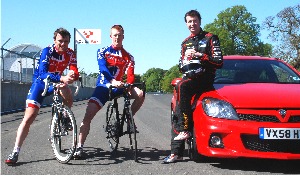 For more information about Vauxhall cars click here. Also for more information about Oulton Park go to:- oultonpark.co.uk.