Formby Dickensian Day 2009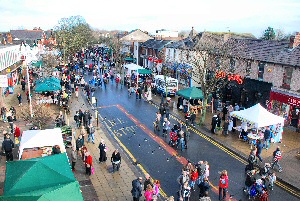 "THIS wasn't forecast!", was the cry, as people set up for last Saturday's Dickensian Day. Anxious eyes scanned the rainy skies. However, it soon cleared up and once again Formby centre was thronged with thousands of eager visitors. There were many excellent attractions on offer to entice them, from the latest feature, the ice rink, to funfair rides; a climbing wall and a helter-skelter to a variety of entertainers; from clowns to choirs; brass bands to sword dancers and clog dancers, including keeping step to a mechanical organ! Assorted weird figures paraded around, including an impressive snow cat and tall stilted folk loomed over the crowds. There was food and drink galore; from Brough's BBQ to scouts' mince pies, cakes, pancakes and other delicacies; from teas and coffees to delicious mulled wine!

Stall holders, from a wide variety of organisations and charities, many attired in Victorian style costumes, sold a range of goods or offered activities such as face painting, Everyone appeared to be having a great time and most seemed happy with the day's transactions. The local shops too, seemed to well attended. The day's programme culminated with an entertaining parade, led by the Mayor, Cllr Doran and Mayoress, Cllr Cuthbertson, followed by a procession of colourful characters, old fashioned bicycles, decorated vehicles and lively bands. There was also a book signing in Pritchards Book Shop by the proud author whose book had only come out that morning!

It was a grand day out! Many Congratulations to Dougie Knight, a prime mover of the whole concept and present day Chair of the Dickensian Day Committee and to his fellow members and to sponsors. Much hard work must have gone into such an enjoyable, and hopefully, lucrative day for the charities.

Here's to next year! Oh, and thanks to all concerned with the decorations, they do the village proud.

This week we have part one of our photographic coverage and part two will follow in next weeks edition... To see part one, click here now!
Christmas on Southport Reporter - Santa Cam 2009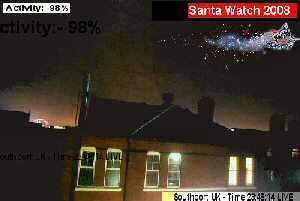 YES, it is back again. As many of you have spotted our web cam has been offline for a week now, but it will be back online very soon. We are currently updating the systems so that more cameras will be running in 2010, all over Merseyside. But we have taken the chance now to do the updates as we are also getting ready for a very special camera, our Santa Watch camera, that will be linked like over the last two years to the international network of webcams, trained on the sky and on roof tops though out the world on Christmas night. Also on the page will be links to our Liverpool Reporter Christmas radio broadcast, games and a very interesting interview with the man him self. So if your kids want to know when Santa is over Merseyside, keep your eyes on here. Santa Cam 2009 will be going live on the 23 December 2009 and find out the link, all you have to do is keep an eye on Liverpool Reporter, Mersey Reporter, Formby Reporter websites and also on Southport.TV. That's not forgetting on this site as well! We are also doing a very interesting thing for New Year's Eve. So keep an eye on here to find out what it is!