Sefton Central Parliamentary Candidates 2010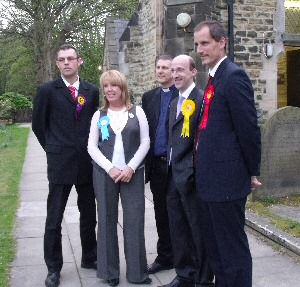 HUSTINGS, at St Luke's Church Formby, took place on Tuesday evening, 27 May 2010 at 7.30pm. Present, under the Chairmanship of the Vicar, Reverend Harvie Nichol, were the Labour candidate Bill Esterson, the UK Independence Party candidate Peter Harper, and the Conservative candidate Debi Jones, the Liberal Democrat candidate Richard Clein.

The event began with an introduction by the Vicar. He explained the rules for the evening's husting and reminded the audience, of over a hundred, that they were in a church, so, please, no riotous behaviour. To set the tone for the evening, a video, on a big screen at the south-east end of the Church, was shown which featured the three main party leaders speaking about their manifestoes. Each candidate, in turn, was given just over a minute by the curate, Rev Michael Ridge, to answer pre-submitted questions read out to them by Rev Nichol.

Throughout the question and answer session, the aspiring candidates answered the questions clearly. There was very little banter between them and even the very attentive audience was extremely well behaved. At 9pm precisely, the Chair stopped asking the questions and after thanking the four candidates, he closed the Husting Meeting with a prayer for the candidates and for the voters.

The pictures record this much appreciated event for posterity.
NEW PAGES BEING ADDED
SOME of you might have spotted that we are adding new sections to our site. In a few days time we will have a new job section, so if you have a business and want to advertise a vacancy or if you want to find a job, we hope this section is of help. We are also adding a new advert system. Many of the users have already spotted changes and we will be rolling out new options and systems to help your business get better exposure. To find out more about please contact us on 10704 513 569. As the changes take place, you might see occurrences of a few loading problems within the page structure over the next week, on here and on Mersey Reporter. These alterations, are only a small part a massive change, to be implemented soon, but most changes will go unnoticed until the new fully functioning system is online.


..HAPPY BIRTHDAY...
If you have someone you want to say happy birthday to, for free, then use the email address below to send us the names you want us say happy birthday to, and/or a photograph. Email us today!

| | | | |
| --- | --- | --- | --- |
| This weeks news in pictures | | | |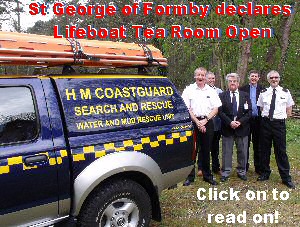 --- MORE NEWS REPORTS BELOW ---
Sefton Central Parliamentary Candidates 2010
ARRIVA WANTS MYSTERY TRAVELLERS
SOUTHPORT COMMUNITY DAY
Severe winter halves rare black grouse numbers
Beth Schofield In Latin Lounge
St George of Formby declares Lifeboat Tea Room Open
Women admit they don't know it all…and getting the gas man in is a 'man's job'
Airport Ambassadors report for duty as college students give a helping hand
Brown going down says White Van Man
KELSALL CHARITY GALA
Head up - Are you going to Longton SSC's Car Boot Sale?
INJURY SHOOTING - OAKGATE CLOSE, CROXTETH
First for Liverpool as Director elected to US National Academy of Science
SOUTHPORT Country Heroes takes place on Victoria park on the
"Chief of Police" Jon Murphy, more popular than Ryan Giggs and Beyonce
Arts festival honours four centuries of history
ASBO, JASON O'BRIEN
POLICE ISSUE WARNING TO MOTORISTS IN THE FORMBY AREA
FINAL CALL FOR PASSENGERS DOUGLAS, DOUGLAS AND DOUGLAS
Women - Forget bikini perfection, 'super bodies' are in for spring 2010
WANTED - JAMES JOSEPH DAVIDSON
Get into gear and join the Manchester to Liverpool bike ride in aid of the NSPCC
STOLEN DRUGS - AIGBURTH
Pre-Poster-ous!
Scouts in Southport Mark St George's Day
WITNESS APPEAL - ROBBERY, BARGAIN BOOZE, WEST DERBY VILLAGE
THE ARMY JOINS THE FUN AT LIVERPOOL PAGEANT!
REAPPEAL: FATAL RTC - COASTAL ROAD, BIRKDALE
135,000 MERSEYSIDE HOMES TO GET NEXT GENERATION BROADBAND
SHOTS FIRED - LONGFELLOW STREET
2010 Fashion Briefing

KEEP up-to-date with our daily news email service. We are slowly getting to the end of our Beta Test of our new news service on Formby-Reporter.com. So if you have not signed up, do so now. If you have already subscribed and not getting emails, remember to click on your confirmation email. So if you did not get one, email us today via:- news24@southportreporter.com and we will resend it to you!