FIREWORKS LIGHT UP THE DAMP SKY
Photographs and report by Patrick Trollope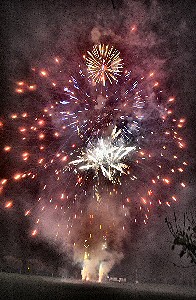 THE night of Saturday, 6 November 2010, started out cold, but dry. Sadly, as the time came close to setting off the fireworks at the annual Southport Hesketh Round Table Bonfire, the heavens opened. The display was in aid of Macmillian Cancer Support and featured a massive bonfire that was lit by Chloe Nathan and Jake. The funfair was provided by Silcock's and had many interesting rides catering for all ages. A competition, to start the firework display, was won by the Rooney family, who pressed the big button on the Rock FM stage, to start the display. This display was then controlled by pyrotechnics from Reaction Fireworks from Anfield Plain, County Durham. Unfortunately the rain did hamper some of the display, but it was still very good considering the conditions. The event did have a few problems besides the weather, but all in all, this was again another very good show, and it is fantastic to se Victoria Park being utilised now throughout the year. Did you go? If you did email us your thoughts about the event to news24@southportreporter.com and let us know how you what you thought of it.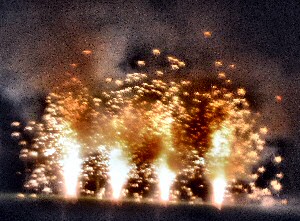 If you like the photos, please order them and do not copy them. Keep this site online... Click here to find out out you can get you copy of these photos...
2 Minute Silence In Mersey Tunnels
MOTORISTS using the Mersey Tunnels will be asked to observe the two minutes silence on Thursday, 11 November 2010, Armistice Day. Vehicles travelling through the tunnels in both directions will be stopped at the booths at 11am. Councillor Mark Dowd, chair of Merseytravel, said:- "It is important we remember those who have made the ultimate sacrifice for their country in two world wars as we should remember those who continue to make that sacrifice in current conflicts." The two minute silence will be repeated at the Mersey Tunnels at 11am on Sunday, 14 November 2010, (Remembrance Sunday).


KEEP up-to-date with our daily news email service..
~ Sign up ~
to our new news service on Formby-Reporter.com.

If you subscribed you can keep in up-to-date with what's going on in and around Merseyside. It is free and we do not send out massive amounts of emails. Also your email is kept under the UK's Data Protection Act, so you can be sure that you will not have problems.