Junior Open Gets Inspiration
Report with thanks to the R&A. Photographs by Sally Devine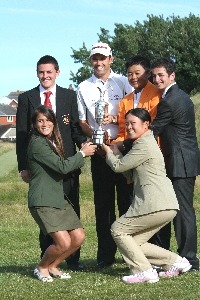 THE Open Champion Padraig Harrington took the Claret Jug to the opening ceremony of The Junior Open, hoping to inspire the young golfers competing in the biennial competition to follow in his footsteps. The event was held at the Hesketh Golf Club.

Padraig started playing golf from the age of 4 and loved to practice with his brothers, an uncle and his father. He played in his first official amateur tournament aged 15, the Connaught Boys Championship, playing off scratch, and came second. He was Ireland's top amateur for two years in a row and was part of the winning Walker Cup team in 1995 at Royal Porthcawl.

Every 2 years The R&A asks its affiliated national bodies in 120 countries to send a boy and girl (12 to 16 years) to play in The Junior Open. This 5th event in the series has attracted a record entry of 115 young players from 70 countries, ranging from Chile to China, Ireland to India and Nigeria to Nicaragua. Young Chinese players are competing for the first time.

Padraig Harrington is taking time out from his bid to become the first European, back-to-back winner, of The Open Championship since James Braid in 1906.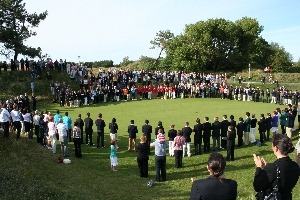 Good luck to all the players in the 2008 Junior Open from all of us at Southport & Mersey Reporter.
Get the latest photographs taken by us and news reports from The Open 2008 by clicking on below...

We will attempt to update this section as regularly as we can over The Open.

EDITORIAL NOTE... The next edition of Southport & Mersey Reporter.
THE next issue of Southport & Mersey Reporter will be on Thursday not Monday. This due to our coverage of the Open Golf and the Tall Ships Race. Please note that all deadlines for supplying copy will still the same. Sorry for any inconvenience this might course. We will then go back to normal for the following issues. We hope you enjoy the coverage we are going to provide you from this fantastic line up of events, here on Merseyside.