| | |
| --- | --- |
| | 2011 Tickets now on sale, click here to buy. |
The Southport Charity Fun Festival 2011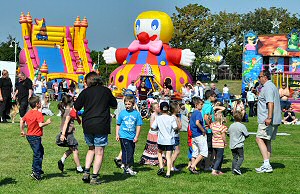 WELL done to the Fun Fest chairman James Grundy for putting on one of the best ones yet, over Saturday, 4 June and Sunday, 5 June 2011, on Victoria Park, Southport. This year the money raised will go to charities the following:- Able Bodied Club, Claire House, Southport Alzheimerís Society, Southport Lifeboat, Southport Physically Handicapped, Queenscourt Hospice, Southport St John Ambulance and the Southport Stroke Association. We headed over to see this free to attended event on the Saturday to get a few snaps. The attractions at the show included things like fairground rides, stalls, Lifeboat, Fire Engine, Tug Of War Challenge, a junior football tournament, live music, West Lancs. dog display and lots more. That was only on the Saturday! Sunday, unfortunately we could not get a photographer to cover had knights of the Historia Normannis Southport, archery and the 'Itís A Knockout' on top of all that. Oscar Pet Foods, who had a stall at the event said:- "We had good crowds and people enjoyed themselves. The organisers this year have done a fantastic job to keep this event going and they require more help then ever to do this." James added:- "Thereís a phenomenal amount of work that goes into putting an the event like this on. Itís good to see a park full of people enjoying themselves, but we need more help to keep this event alive next year. Please contact me via the editor of the Southport Visitor, our Vice Chairman Andrew Brown, if you would like to join in our community run event."

Click on here to see more photographs taken at this event.
Did you go to this? If you did then please email our newsroom to:- news24@southportreporter.com and let us know your views and thoughts about it!


KEEP up-to-d
ate
with our daily news email service...
~ Sign up ~
to our new news service on Formby-Reporter.com.
If you subscribed you can keep in up-to-date with what's going on in and around Merseyside. It is free and we do not send out massive amounts of emails. Also your email is kept under the UK's Data Protection Act, so you can be sure that you will not have problems.
This week's news in pictures