Sneak Preview of the New Look Liverpool's Central Library
Photographs by Patrick Trollope. - UK Press Photography.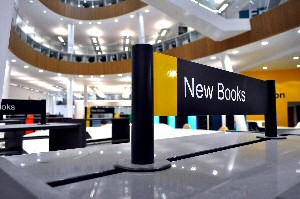 IT is a new chapter for Liverpool's Central Library and what a story it has been so far! After a massive £50m refurbishment, the staff are now starting to put the books back on the shelves of this futuristic library. During the renovations, the 1850s facade of the building and historic reading rooms and specialist libraries have been restored and new facilities, including a temperature controlled repository, have been built. We are told that the librarians have now started carefully transporting 4 million books and some of the UK's rare books and documents to their new home. The rare treasures the library will be housing in a brand new, state of the art, secure, climate controlled repository, and will include the original 1207 Charter signed by King John which granted Liverpool City status, along with some of the earliest examples of printing in the world. Archivists will also be housing in the repository, photographic prints and paintings along with parish records, and more. It is thought it will take around 3 months to complete, with most of this information then being made available online! The refurbishment the Liverpool Central Library has resulted in what is a very impressive facility for all ages, with amazing thought for people with disabilities, and for future technological developments and services to be accommodated within it. As you can see for yourselves when looking at our photographs, the work which has been carried out to amazingly high standards. The photographs include the beautiful Picton Reading Room, the new-look Discover (formerly the International Library), the Hornby and Oak Rooms, which have not been open to the public before and a glance at the views from the brand new roof terrace. Sadly, the extraordinary views were not as striking as we had hoped on Wednesday, 23 January 2013, because of cloud and snow!

Head of Libraries, Joyce Little told us that:- "We tried our best to look at both the future and the past, accommodating as many aspects as we could into the refurbishment. We hope these change will be of huge benefit for generations to come."
Accompanying our Editor, Patrick Trollope, was Kit Siddons-Smith, who is an ex-head of department at the Library. He told us that:- "Many areas have that have been hidden in the past have now been opened up to the public, as well as making the place look brighter and more inviting. I am shocked at how big a change has been made. It is fantastic and I think the public and current and future staff will truly love this building for generations to come. It is a remarkable achievement."
We will have some more photographs and a bit more about the library in next week's issue, but for now please click on here to see the photographic coverage in this edition!
Kit Siddons-Smith, if you are interested, came around the Library with us, on the special Press Tour, as he will be helping us very soon to add a section about this historic building to our History Section on Mersey Reporter.

If you have any memories of this building please let us know by emailing us via:- news24@southportreporter.com and also please let us know if you plan to be using it in the future!
...HAPPY BIRTHDAY...

Happy Birthday to Eric from all of us at Southport Reporter!
Collette White, Happy Birthday from all of us at the Ramada Plaza, Southport
Adele Delly Warnock - Happy Birthday from all of us at Mc Donald's, Ocean Plaza, Southport...
If you have someone you want to say happy birthday to, for free, then use the email address below to send us the names you want us say happy birthday to, and/or a photograph. Email us today!
| | | |
| --- | --- | --- |
| | Click on to read on! | Click on to read on! |