Orange Lodge had parade again in Southport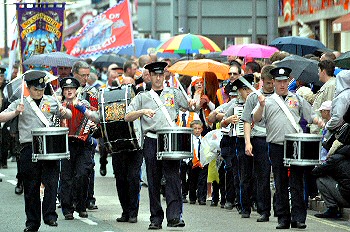 THE Orange Lodge had again held its controversial annual parade in Southport, on 11 July 2015. The event attracted over 3,000 people who marched through the Town. The event has been held as part of the Liverpool and area Lodges' celebrations every July either on or close to 12 July, commemorating the 1690 victory at the Battle of the Boyne, of King William of Orange. As a result this event is politically controversial, but it has also been in the past connected with violence and drunken behaviour. Thus, as a result many local businesses say it should not take place as it puts people off visiting the town, a feeling many residents often express. But some businesses have embraced this event that can and does bring in thousands of pounds into the local bars and nightclubs. Last year, the event was praised by police for not having any arrests, but sadly this year a very small minority caused problems, leading to 3 arrests. Also, an investigation was launched into a reported fight on a train leaving Southport station on Saturday, which could have been linked to the Orange Lodge event, according to the British Transport Police. Overall, the events during the day passed mostly 'without incident'. As for disruption, the marches did cause travel chaos, but as the Lodge pointed out, 1 of the major reasons was a direct result in lack of help by the Police, with the road closures. We have been told that this is a national policy, which sees Police no longer involved in facilitating the temporary closure of roads along the agreed parade and carnival routes. This also affects demonstrations and even military events! The idea we are told, of this decision, is to free up Officers to do other duties, and due to more restrictive, interpretations of traffic laws, private Traffic Management teams can do the job just as well. This has already affected the St George's Day Parades, Veteran Marches and many more events. However, there is traffic chaos as a result, so it does call this idea into question. We have video footage, online, at the end of our photographic report of the parades going and leaving. To see our photo report, please click on here now... If you have any thoughts or views about this event, please email us to:- news24@southportreporter.com and let us know what they are!
Cosplay Event 24 July 2015

DON'T miss our Cosplay event at the Fox and Goose in Southport, on 24 July 2015. Doors open from 8pm to 2am close. Charge £1 in costume and £2 if not in costume. More information see last weeks issue, by clicking here.