Torrential rain caused flooding and put a dampener on Christmas!

IT'S been a very wet, yet warm Christmas this year, and this has lead to some very extreme weather events. For many residents, in the North West of England, it has been a very stress-full Christmas, as the Met Office issued red warnings after red warnings. As the river levels climbed higher and higher, the region was soaked by "unprecedented" levels of rain causing rivers to burst their banks, roads to be flooded as the saturated earth could no longer sustain the deluge. Some of this has been compounded by a huge lack of investment in drainage, with many areas having drains blocked by the remains of the autumns leaf fall. In Sefton, parts of Southport were affected due to this issue.

One resident in an affected area, near Preston, told us:- "I know they say wet weather is good for ducks, but I think most of them will be flying away for Christmas... Unlike ducks, we are on holiday and are now worried about our property back home!"

On Merseyside and parts of nearby West Lancs. river levels have been dangerously high, with flood alerts being issued in Warrington area, on the River Sankey catchment area, as well as across large sections of the Mersey Estuary. Areas of around the River Alt have also seen flooding, with the new homes built next to the banks of the Alt being at possible risk of flooding. In Formby, areas of farmland are frequently the subject of further planning applications for building yet more houses on areas that were also flooded, as the surface water could not drain away. This is now a fairly normal occurrence. The River Alt was on Red Alert for most of Christmas, as levels climbed higher and higher. Thankfully the Alt, did not breach the defences around Formby and Hightown areas, thanks to the Pumping Station, but other areas were not as lucky. The photos show the high levels over night on 26 December, by the Formby By-Pass.

Parts of the City of Preston and surrounding low lying land areas of Lancashire have also been hit hard, as the River Ribble swelled.

In Southport, Merseyside, some roads could not cope with the surface water and flooded, as did areas around Meols Hall, due to a small tributary, called The Pools, flooding parts of the Botanic Gardens and Southport Old Links Golf Course.

More rain has been forecast for over New Years Eve, leading to more flooding worries for some residents.

What is of great concern is that we have seen a huge increase in planning applications being submitted for low lying areas to be built on, in and around Merseyside. Many of the areas, like in Formby, are in floor risk areas, as they located on natural flood plains, which in the past have absorbed most excess water before property and land was affected like near the Alt and also around Banks, just outside Southport... Should we build cheap housing near rivers like this, both endangering property and more importantly lives on flood plains? What are your views on this?

The Prime Minister, David Cameron has chaired many conference calls as the Government's emergency Cobra committee as ministers worked to tackle the latest flooding problems. He has promised to try to ensure that families and businesses are supported, if they have been significantly affected by the floods.

With this widespread river flooding and surface water flooding, one thing that is becoming very clear is that the UK does not have adequate emergency measures to cope with natural disasters. With so many cuts to the likes of the Armed Forces and emergency services, voluntary emergency services, like the Lifeboats, Mountain Rescue, St John Ambulance and even the Red Cross, who can no longer offer the greater degree of service necessary because of this increasing drain of man power. What do readers thing should be done to provide cover? Have you been affected by these issues? Please let us know!

Please email us your thoughts to:- News24@southportReporter.com. Plus if you get any flood photos or videos, please send them over to us... But do not put yourself at risk when taking any photos or videos and always obey the Emergency services instructions when taking pictures or video.

Most of the North West of England has experienced localised flooding on the road network, and emergency services are asking that motorist take care. "If you are driving and see standing water, it's best not to drive through it if you can avoid it. The road conditions are dangerous in places and we're advising people not to travel unless they really need to. It's essential motorists drive with extra care and we'd ask people not to take the risk of driving through anything that looks like deep water. Also standing water can hide other problems, like collapsed drains and debris that could serious damage your vehicle. Driving through standing water poses a threat to homes and businesses at the road side, which can suffer damage when passing vehicles create waves, no matter how deep the water is!"
To see a few more photos of the Alt and fields around it, please click on here now. Also if you have any flood photos, please let us know, via emailing them to our newsroom at:- News24@SouthportReporter.Com.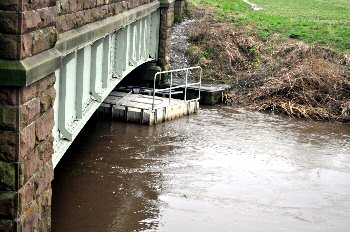 Flood warning that are being or have been issued can be found using these websites:-

The UK's Flood Warning Service - Click on here.
The Met Office - Click on here.

You can also call the Flood line on:- 0345 988 1188. This is a 24 hour service for all mainland UK residents.