SCHOOLS GRAB ST HELENS NETBALL SPOT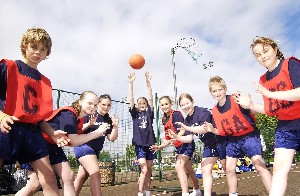 TWO St Helens schools have netted the chance to represent the borough in this summer's Merseyside Youth Games.

Ashurst Primary School defeated Legh Vale Primary School in the final of the 'High Fives' netball tournament staged at Edge Hill's Sporting Edge complex in Ormskirk and both teams will now feature in the annual July event held on the Wirral.

The tournament, which saw 32 teams participate, was organised by St Helens Council and Edge Hill Sports Studies degree students as part of their Development of Sports Programmes module.

Student Gemma Watton said:- "Myself, Martyn Revis, Andy Prickett, Anna Kelly and Michael Gilsenan have put a lot of time and effort went into ensuring that the proceedings ran as smoothly as possible and everyone seemed to enjoy themselves.

Every team was well supported and we wish Ashurst and Legh Vale the best of luck in the Youth Games."

Picture: Bleak Hill Primary School's netball team warm up for the tournament.
Q103's Rus & Helen Spotted in town...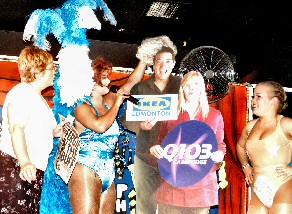 PLEASE ring 01223 623 838 and help contestant 31 to win "Live with the Morning Q". Roberta Lees on Saturday 28 May 2005 was visited by the contestant and her life-size cardboard cutout of Big Russ and Helen from radio station Q103 Cambridge. the cutout was given a make over on stage by Roberta Lee who felt he was a bit to plain, so she added a hair piece for a bit of 3d texture to it. Find out what else went on in next weeks issue.
~HAPPY BIRTHDAY~

IF you have someone you want to say happy birthday to for free, then use this email address & send the names to us by emailing us to:- birthdays@southportreporter.com

Click on to log on to your

LOCAL online Radio Station... TODAY!