THE SOUND OF TRIUMPH

ONCE again, Liverpool's Mathew St Music Festival, the 13th, proved a roaring success, drawing huge crowds of all ages from the very young to pensioners and from near and far. This festival is seen in such high regard that there were bands' representatives trying to obtain performance places in next year's festival such as Gubbrockarna, a band from Finland! On Saturday there were concerts of exceptionally high standards on the 2 Pier Head Stages given by very experienced bands and new bands like Merseycats, and Zombie. On Sunday the throngs were augmented by tourists from the Holland-America Lines' cruise ship, 'Prinsendam', which anchored in the river throughout the day in bright sunshine and added presence to the occasion. There were two arena stages on the Pier Head and one at Woodside. On Monday at Pier Head a wide range of acts performed including some big names like Tony Christie. Not only where bands on the Pier Head, but they also played at other locations on the City streets, as well as in countless pubs and clubs, bars and cafes, most noteablly the famous Cavern Club, groups played to the delight of all. The new Wirral Woodside Stage was a great success and much appreciated by artists and audiences alike.
All for free. There were also included many local groups and artists of very high calibre who gave an excellent account of themselves, like Merseycats and the Zombies. We were privileged indeed. The atmosphere everywhere was friendly and festive, a fact that was commented on repeatedly by visitors from outside the area. Despite a good supply of alcohol being available, the mood of the crowd remained good humoured, and everyone seemed to be enjoying themselves immensely. The stewards and police, along with St Johns Ambulance Brigade and other supporting staff deserve praise for the successful three day show. One visitor from Birmingham commented on how quickly the litter was collected and said he was amazed last year that on the morning after the event "not one toffee paper was left". All the organisers and performers deserve high praise and thanks.
Click below for 31 pages of photos!
If the green box above does not show, you must download a new edition of Java. To get it just use this link:- java.com/en/index.jsp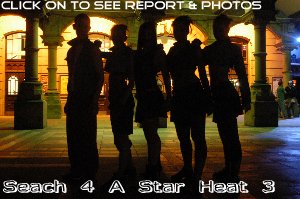 COMPETITION:- ALL'S FAYRE AS CHAPEL BROOK BREWSTERS UNDERGOES REJUVENATION TO BECOME BREWERS FAYRE
LIVERPOOL HERITAGE OPEN DAYS
ECO-ARTS FESTIVAL LOOKS TO INSPIRE, UPLIFT AND EDUCATE
Mathew St Music Festival Photos, part 1.
RAF Millom Museum Heritage Open Days
Vue Film Showing Times.
SWITCHED ON THIS WEEK - THE BEST BITS ON UK TV
LOCAL LIFESAVING HERO REACHES SEMI-FINALS OF NATIONAL BRAVERY AWARDS
GEARING UP FOR GOSPEL
Night time revellers to get on-street treatment
Community allotment opened
A Skill in Design for Life
Southport Flower Show Photographs Part 2
'Family Safety Unit Launched – First in the Northwest'
INVITATION TO THE DANCE
Winners of our Reader Competition:- Tasty Allergy Friendly Foods!
LOCAL COMPANIES OFFER A HELPING HAND TO SAMARITANS
Search Far A Star Heat 3
European football for both Merseyside clubs brings extra Airport business
Making Merseyside's Roads Safer for Everyone
CREAMFIELDS 2005
Learn to use Sign Language
YOUNG SEFTON ARTISTS INVITED TO EXHIBIT ON THE IRISH SEA
Overnight tunnel closures for vital safety improvements
Southport FC v Burton Albion FC
Taking learning to another dimension
~HAPPY BIRTHDAY~
Happy Birthday CAT SUTTON, hope you have a great birthday I know you will. x X x love Saz k
IF you have someone you want to say happy birthday to for free, then use this email address & send the names to us by emailing us to:- birthdays