ST LUKE'S CHURCH 150th ANNIVERSARY FESTIVAL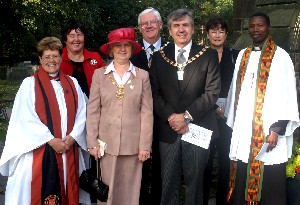 ST LUKE'S Church in Formby has been celebrating in style, it's 150th anniversary. This weekend, on Sunday 23 October, the church held a thanks giving after a weekend long Flower Festival. Attending the service where representatives from the Formby Family, the previous vicar, Rev. Arnold Moon, The Deputy Mayor Of Sefton, Rev. Emmanuel from St. Mark's church, Shyira in Rwanda. The service conducted by the current vicar, Rev. Alison Woodhouse, was just one of many celebrations the church has held over this year in the run up to its anniversary.
St Luke's is not the oldest church in Formby, but the present building, that was built by the Formby Family, is on the site of a much older church. The actual consecration of the nave of the church was on Friday 14 December 1855, so the church has planed a large services, plus something else to mark the special day, to be held on Wednesday 14 December 2005.
The church wants to invite past members of the church to join them in the celebrations. They are also interested to know if any one has information that could help their historical research. You can visit the churches web site
stlukes.merseyside.org
for more information about the church.
We will be bringing you lots of photographs and a report about the show in next weeks edition.