Start Of The Round the World Clipper Yacht Race 07-08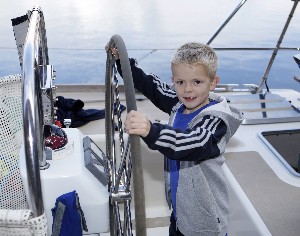 Photo above of James at the Helm of Nova Scotia, with thanks to Clipper Ventures Plc.
ON the 15 September and 16 September the biannual Clipper Yacht Race once again was in port at the Albert Dock and the River Mersey buzzing with life and colour. Before setting off for the first leg, the crews on board leg 1, massed at the Maritime Museum for a mass crew briefing, addressed by sailing legend and founder of the Clipper Race, Sir Robin Knox-Johnston, who passed on a last few words of wisdom and bid them bon voyage for the challenge that lies ahead. The
ten Clippers, which had been berthed in the Albert Dock all week, re-emerged into Canning Half Tide Dock, where crowds watched as the crews of the 10 vessels made last minute adjustments and preparations. The gaily decorated clippers sparkled in brilliant sunshine against a backdrop of Liverpool's ever expanding, but still impressive sky line, highlighted by dramatic black clouds to the North.

Entertainers, music and live commentary helped spin the time along until, on cue, the lock gates opened. The Clippers, preceded by the newest Tall Ship, the stately Mercedes, 2 Royal Naval vessels, HMS Biter and HMS Charger, made their way through, encouraged by cheering crowds, merry fanfares from a brass band and appropriate music, to escape into the
Mersey. There they exercised, like energetic, exotic water-fowl, in the steadily increasing wind, which rapidly roughed up the Mersey into a decidedly choppy state, under darkening skies. "Good sailing weather", those in the know averred.

Eventually, a formation sail past took place, again led by "Mercedes, Charger and Biter" with Liverpool 08 leading her companions down the river towards the Pier Head, prancing before all their admirers. Behind them came Police and Life Boat representation and a flotilla of other vessels including a tug spraying water jets (felt by the watching crowds as she passed) a ferry, an assortment of yachts and smaller craft, ribs even jet skiers. The Clippers then returned and positioned themselves at the Starting Line. Helping to start the race, by pressing the fire button of a artillery gun as the Lord Mayor of Liverpool, Paul Clarke, and 8 year old James Riley from Formby. The Gun echoed and then they were off in earnest, the Race had begun, a journey that will last nearly a year, until they return to Liverpool in the midst of Liverpool's Capital of Culture celebrations.

First over the line and setting of on the 10 month voyage was Durban 2010 and Beyond, closely followed by home favourite Liverpool 08 and Hull & Humber. Bringing up the rear, Uniquely Singapore appeared to have a problem with her sail plan, though as the fleet headed out of the Mersey and fanned out into the Irish Sea they had made up some ground.

This return promises to be even more exhilarating than previous homecomings and will be something extra to look forward to. As they proceeded down the Mersey, it was "Durban" who gained the first advantage.

The 10 Clippers are all identical, save for their names and trimmings, which signify the cities or regions which sponsor them, from across the five continents which they will visit throughout their 10 month journey. They are "Durban", "Glasgow", "Hull and Humber", "Jamaica", "Liverpool", "New York", "Nova Scotia", "Qingdao", "Singapore", and "Western
Australia".

Their voyage is divided into fourteen races. The first leg, is to La Rochelle, from thence to Brazil, then South Africa, Australia, Singapore, and China. Next, across the Pacific via Hawaii to the American West Coast, through the Panama Canal and via Jamaica to New York. Then on to Canada, from where they return across the North Atlantic to the penultimate port of Cork, before a triumphal return to Liverpool.

This race was devised in 1995 by Sir Robin Knox-Johnson, who became famous as the first man to sail solo and non-stop across the World, in 1969. His vision was to make this challenging and exciting world accessible to those who did not have large fortunes at their disposal but were keen and enterprising enough to try.

One of the hardest tasks each year, for those responsible, is too sort out suitable applicants and then to distribute those selected between the vessels, whether they be entering one or two legs or the whole voyage. They must take into account such factors as age, background, and experience, weight, and occupation, for example doctors and nurses are allocated to each in the interests of safety and welfare. The crews are truly international and may be allocated to any Clipper regardless of home city. Merseysiders being well represented throughout, we can celebrate which ever vessel wins next year!

Not all crew members are very seasoned sailors as it is for ammeter sailors and not professionals, but all are well prepared for the tasks in hand before they leave and the less proficient are guided by the well experienced. Each must raise funds to participate. However, those who have had experience, in previous races, of taking a 68 foot yacht on 35,000 mile voyage, under austere conditions (including by shift, bunk sharing) seem to have found it a life enhancing chance of a life time.

Not only by visiting foreign shores but also in the camaraderie in ports between teams but with fierce competition at sea, where team work is vital to success, even survival.

Anyone who feels up to the challenge can apply for the next race. To find out more and to keep up with this race as it unfolds on the clipper website and also on here.
Click here to see lots more photographs of the race and also get our video and audio coverage.