Liverpool ONE, Phase 1 Is Launched!!!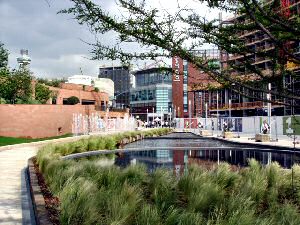 LIVERPOOL was in celebratory mood on Thursday, 29 May 2008, for the launch of Phase 1 of the new development programme, Liverpool 1 in the heart of the city. Crowds began building up to enjoy the razzmatazz, which ensued. Eventually, some 200,000 people flocked into the city to sample what was on offer. There was a distinct festive feel to the day, with a real air of confidence and pride, despite the awareness of the downturn in the Western economies. Liverpool seems resolutely determined to stand proud once again. Bright sunshine encouraged us; it seemed a good omen, and good humour prevailed. Events began at 9:30 am, with speeches from the podium in Lord Street/South John Street.


Click on above to hear and see the speeches and also contributions from the Lord Mayor and from Joanne Jennings, Chief Executive of Liverpool 1. Also we have a fantastic full video all about Liverpool ONE and more. . .
Lord Home of Grosvenor thanked all those involved and also the people of Liverpool for enduring the disruption and access restriction without much complaint. He stated of the day, " We begin the process of giving back to Liverpool an important part of the city centre. As promised, we are reopening two key streets, (Paradise Street and South John Street) in order to reconnect the existing shopping area with the Waterfront and the spectacular Arena and Convention Centre, before very large numbers of people come to enjoy the Capital of Culture summer." Cllr Warren Bradley replied.

Then, at 10am, The Lord Mayor began a countdown by the crowd leading to the pressing of a plunger by Lord Home and Cllr Bradley, which allowed the curtains to part, revealing the new South John Street beyond. This was accompanied by brief pyrotechnics and a stunning acrobatic display.

The public was then allowed access down the red carpeted thoroughfare into the new area. Unlike most out of town shopping malls, this exciting and handsome new centre, open to the air and spacious, still feels an integral part of a real city, even with the red carpet trappings of the day. Many familiar names are there including Lewis's and Debenhams. Others are newcomers to the area. Throughout the day, on a specially constructed catwalk, high fashion shows were given, displaying goods on offer in various stores. Debenhams, proprietors of a superb new store on the corner with Lord Street, really added to the jollity of the day, by offering face-painters, which delighted both the youngsters whom they transformed and passers-by who enjoyed seeing their happy faces. Disney also, by encouraging fancy dress, drew in brightly dressed children, which added even more colour to the day. Disney has opened its new concept store with a wealth fascinating features, which children and adults found well worth a visit, as they did Build- a Bear, tucked round the corner of a side street. Liverpool FC's new shop was also a mecca for fans.

John Lewis' spacious building has an interesting full height mobile, which will change with the seasons and an interesting walkway, which when viewed from the outside, appears to narrow to a point! The walkway connects the area to the car park. Other stores did their bit by colourful displays and staff wearing fancy outfits. All the outlets appeared to be buzzing. People were also able to peer down through a glass cover at the remains of the first wet dock, which was unearthed during excavation work and which helps give a sense of continuity.

Bands played on the stages, and a fascinating army of jugglers, dancers, stilt walkers and aquatic themed mobile acts, dolphin riders and bubble blowing old-fashioned divers, toured the area providing entertainment. Local school children from St Francis of Assisi Academy; St Annes; Stanley Primary School; St Vincent de Paul School; Kensington Infant and Junior School; and St Peter's Primary School were commissioned by Liverpool to provide two pieces of art - decorated hard hats with the theme of 'Liverpool City of Culture 08',which were displayed along the road and, with Brouhaha International, a concert. Karlene from Brouhaha commented:- "What a great space for performances has been provided." Hopefully, it will be well used in the future.

The area, which has been regenerated, was a run down part of the City, including the unloved Steer's House and wasteland. Chavasse Park had provided a great venue for fairs and local events however. Happily, although still off limits, Chavasse Park has been transformed, perched above a massive underground car park, a masterstroke indeed. All will ultimately open up to connect with the Albert Dock area development and the Pier Head in Phase 2 Grand Opening, due on 30 September, when the cinema, two new hotels, further shops and leisure attractions including restaurants, designed in zigzag fashion to afford open views over the water-front. However, this is not the only redevelopment of the City, work on the new canal connection at the Pier Head and the new Museum continue apace. Work is envisaged to improve existing central areas of the City. It has been speculated that the new development might take trade from the older areas, but let's hope that it is an omen that, on the launch day, other parts of the City also buzzed as people spread out to enjoy all this great City has to offer. ...continued...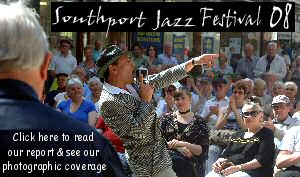 --- MORE NEWS REPORTS BELOW ---
PETA BARBECUES NAKED GIRL TO SHOW THAT MEAT IS MURDER
DANCING IN THE STREET AT THE PRINTWORKS
Sci-fi stars at Spaceport!
How Thrive is helping to beat the blues through gardening
WEB WRITERS NEEDED TO UPDATE TOWN GUIDES
ROYAL NAVY'S FLEET FLAGSHIP MAKES FOR THE MERSEY
North West England Places Third On UK Junk Mail League Table
People in the North-West Have Stopped Printing Photos
Southport International Jazz Festival, 2008
UNISON BALLOTS LOCAL GOVERNMENT MEMBERS FOR STRIKE ACTION OVER PAY
Liverpool's Most Vulnerable Youngsters Reach for Script Stardom
Horse power at Lord Mare's Parade!
FROM Monday 2 June 2008 you can take your old mobile phone to be recycled at any Morrisons store throughout the
100,000 people with diabetes in the North West risk losing sight
FRASER JOINS PRINCE'S TRUST PIONEERS
6 Liverpool sporting venues included in London 2012 training camp guide
VOCATIONAL COURSES LEAD TO BETTER LIFE CHANCES
Meet the Dogs Blogging Their Way to a New Life
LIVERPOOL'S GOT TALENT
Second hand smoke increases risk of meningitis in infants
UK almost 1,500 years behind Germany on solar panels
Creamfields Licence Granted + Promise A Quality Event With Increased Security & Safety Measures
Southport to celebrate Argos New Store Opening
Liverpool ONE, Phase 1 Launch Photographs
Roll On Cycling This Summer
9 in 10 want transparent ticket prices, says Which?
Public warned about gum disease & cancer link as survey finds 29% have bleeding gums
Podium place into New York for Liverpool 08
Nominate young heroes for the Diana Award today
...continued...
| | | |
| --- | --- | --- |
| | to | |
| 1998 | to | 2008 |
What a difference 10 years make, as the photographs show. Liverpool awaits with eager anticipation.
We wish the city every success!
Here are some short snippets from shoppers and shop workers on the Liverpool ONE Opening Day:-

* "We've been very, very busy. Everyone quite happy. There's a really big future coming. It will be successful." Ann Marie, Sparkle Cleansing Team, Liverpool 1.

* "Staff worked till 2am then started again at 4:30am to get this ready. There was an air of real excitement. John Lewis is lovely all this will bring people in from outside. I hope the recession won't spoil it but I doubt that it will. Liverpool looks beautiful and with the waterfront when its all open in September it will be even better. Something for the youngsters for the future." Audrey.

* "All that's good for Liverpool is good for everyone. The Fire Service has been involved throughout ensuring the safe and smooth running of the complex. The future looks bright. All part of the revitalised City of the Future." Fire fighter.

* "About time some serious money was spent on Liverpool, but it's a shame there's not more local people here. There are too many workers from outside. Its hard to say how things will go in the future as the as the world market goes. The government within the government that makes major decisions and if they can sort out our mess." Les, the glazier.

* "I was at Liverpool University. The City has really changed. Its Fantastic! Been to museum and art gallery, with my children making things. Just arrived at Liverpool 1. Its lively, will come again for second phase in September." Late afternoon visitor.

* "Access not too bad, but hard to find Shopmobility. Have been charged for parking, free at Trafford Centre." Wheel Chair user.

* "I am proud to be from Liverpool. I'm quite impressed. Haven't half put on a show. Peace and respect." First time visitor from Birmingham and Pakistan.

* "Lovely to see so many people. Wonderful atmosphere. Everyone appears happy. It's been a stunner. We've been on the floor, now the only way is up. Its been a good project. Good and windy! We're biased. All workers are scousers." One Park Avenue glazier.

* "Glad to see this. Only a few months back this was a sea of mud! It's amazing where everyone is coming from. They're coming in droves. Having a great time. Found a parking space easily. Would love to work here." Two young ladies from Formby.
Click here to see 7 Pages of photographs taken at the opening... Are you in any of them?

| | |
| --- | --- |
| | |