Southport's Holocaust Memorial Service 2009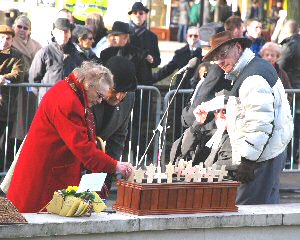 THE Annual Sefton Holocaust Memorial Service was held in Southport, Merseyside, on Sunday, 25 January 2009. The commemoration date was set back in 2000 when the Government announced that 27 January should be set aside to mark the anniversary of the liberation of Auschwitz. Since the first service was held in Sefton on Sunday, 28 January 2001, an Annual Service has taken place on the nearest Sunday to the 27 January in Southport. This year, this moving service was very well attended, despite the weather warnings. Thankfully for those attending, the sun shone through and the rain held off throughout the service at the Southport War Memorial. Representing both Southport Synagogues was Rabbi S Kay, with Mr H Goldring, the Vice Chairman of AJEX (Association of Jewish Ex-Servicemen and Women) and Christian churches, as well as the Mayor of Sefton Cllr. Paul Tweed with the Chief Executive, Sefton MBC, Margaret Carney who took part in the service. Also attending and participating were the Revd's ST Reid, and B Topp from Christ Church, Southport. Also present were many members of the public, who ranged from Solders who had liberated the camps, through to a survivor of the concentration camp and many of the relatives of those killed. Representatives of the Army Cadet Force, Air Cadets, The Royal British Legion and the Sea Cadets were also in attendance. For the first time the organisers decided to include the youth in the Memorial Service, so that they can pass on the importance of remembering the events which happened over World War 2, in the hopes that future generations will not repeat it. This involvement of the youth was in the form of two students from Embrace and KGV College who undertook the readings. Another change to the service was the introduction of a choir, Liverpool Voice, who sang Mayn Shvester Khaye at the end of the service. This was a truly well organised service and one that was exceptionally moving at times. In the Atkinson Art Gallery was an exhibition about the Holocaust, helping to serve as yet another reminder of what can happen because of unbridled hatred.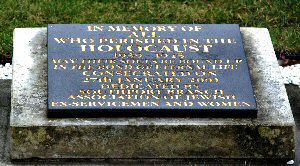 To see our photographic coverage of the Memorial Service, please click here.
~HAPPY BIRTHDAY~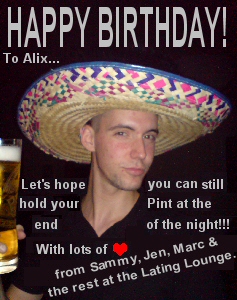 .......................................................
HAPPY BIRTHDAY RICHARD FROM ERIC!
.......................................................
If you have someone you want to say happy birthday to, for free, then use the email address below to send us the names you want us say happy birthday to, and/or a photograph. Email us today!