Car Overturns on A565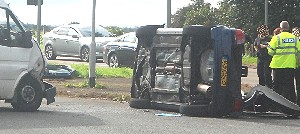 ON Monday, 7 September 2009 emergency services were called after two vehicles collided outside the Weld Blundell, on the A565, Formby Bypass. A blue car overturned trapping the driver of the car after colliding with a white transit van. Merseyside Fire and Rescue Service had to use hydraulic cutting equipment to free the driver as paramedics worked alongside. The driver was taken to hospital. Merseyside Police are currently investigating this incident.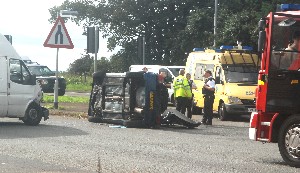 MERSEYSIDE ROAD SAFETY PARTNERSHIP TACKLES AN AGE OLD PROBLEM
THE Partnership put on the event at Southport's Ramada Plaza Hotel, on Wednesday, 9 September 2009. The events was aimed at improving driver awareness for our regions older road users and to help the find out about the availability of alternative modes of transport on offer through out the area. We will be bringing you a full audio and written report in next weeks issue about this very important topic. If any of our readers want to know more about future events or require information about driver awareness, please do email us and we will forward your contact details on to the Partnership. Our email is as normal, news24@southportreporter.com.
Blind Date Auction
in Aid Of St John Ambulance, Southport - Reminder
AN auction with a difference will be held this Friday on 11 September 2009, at the Latin Lounge, on Post Office Ave. Live music throughout out the night, FREE entrance, 18 and over only!
We have 4 young ladies and 3 lads to be auctioned off. he blind date part comes in as the bidder will only be bidding for the activity and not the partner... Already we have got four fantastic activities that have been donated. The activities are a day long chocolate tasting and making with an award winning chocolate maker at The Chocolate Cellar, Liverpool. A meal for two at Southport's Number 1 Mexican Restaurant & Tapas Bar, Fuego's. That's not forgetting two Meals for two, thanks to the Latin Lounge, and also two pairs of cinema tickets, tickets kindly donated by Vue Cinema, Southport... but their might be more to that date! All cash raised through the auction and via donations on the night will go to Southport St John Ambulance, so it could not go to a better course! Also who knows, what the date, should you win the bid, result in! Starts 8pm with entertainment through out the night!