A Hauntingly Good Night!
Photographs and report by Patrick Trollope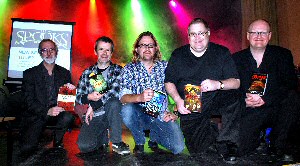 ON Thursday, 21 October 2010 Pritchards Bookshops and Sefton Libraries put on a special evening at the Crosby Civic Hall with not one, but 5 top authors! All 5 of them delivered interesting and interactive talks about spooky, scary and chilling books... Combined with the smoke and lights, readings and a live scary story written on the night, this was an experience and highly entertaining as well as oddly informative! If you missed this night, you will be pleased to know you can find some information about 4 of them on a website called 'Trapped by Monsters' and it is full of stuff including horror-writing workshop information... So who came to this dark and mysterious night? Well Tommy Donbavand writer of 'Scream Street'. He is now on his 9th book and a TV series is on its way... Then you had David Gatward, who is relatively new, and has written 2 books so far and a 3rd is on its way. Jon Mayhew released 'Mortlock' and now releasing the much anticipated follow up book called 'The Demon Collector', which is out March 2011. Sam Enthoven who is not only a very gripping writer, but also a martial arts expert and super funny to round it off. Then you had Joseph Delaney, winner of numerous awards. His 'Spook's Stories' are soon too made into film! Well done to Tony from Prichards Bookshops and the staff at the Crosby Library for developing this fantastic idea. We hope it captured the audience as much as it did us! Click here to see our photographic coverage of the event. A few video shots will be added to Southport.TV very soon!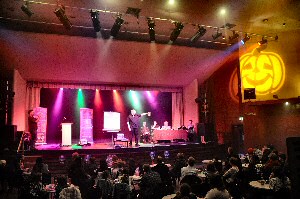 Scare Kingdom Scream Park!
THIS Halloween get ready for a shocking time... Join the North West's premier destination for Halloween entertainment with real SCREAM factor! Halloween comes to life in 'Trick or Treat' - an interactive spooky pantomime for under 10's, plus meet our friendly street theatre characters and venture into 'The Labyrinth of the Lost Pirates' to crack the pirate code! Come after dark when the kingdom comes to life with four terrifying scare attractions for thrill seekers, adults and families. Venture onto 'Unhallowed Hill' - an 8 acre corn maze filled with live actors and special effects, pay a visit to 'Tingler's Toy Factory', drop into 'Hellfire Hall' for a shocking encounter only for the brave of heart!, and stir up a storm on 'The Cauldron'. Roaming scareactors, themed catering in 'The Wicked Witch Cafe' and other attractions including 'The Possessed Painting' complete the kingdom. The 2009 Admission PRICED HELD for 2010! 6 ALL NEW attractions! (4 evening / 2 daytime), Timed entry means virtually NO QUEUES! RIP Behind The SCREAMS Tour! Call Ticketweb on:- 08444 771000 or book online. For full details of all attractions including suitability advice check the website.
...HAPPY BIRTHDAY...
If you have someone you want to say happy birthday to, for free, then use the email address below to send us the names you want us say happy birthday to, and/or a photograph. Email us today!