Partial Eclipse Of The Sun Spoilt By Cloud!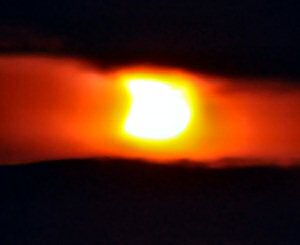 ON 4 January 2011 the chance to see a partial eclipse got many out of bed early in England, only to find it was mostly obstructed by cloud. Just like it was for the lunar eclipse at the end of 2010, cloud again hampered views. Partial eclipses, are not as exciting as the total solar eclipse, but they are still always interesting to see. The day before the event, the UK Government's Chief Medical Officer, Sally Davies, said:- "The safest way to watch the eclipse is on the television or live web casts, experts have advised." But for many experts and even in some cases even the TV crews covering it, the only way to watch it was to join the rest of the public and view it on TV from other locations. Most of Merseyside missed the main event, when the eclipse was at maximum, around sunrise, due to thick cloud cover. Some sky watchers did manage to see parts of the fantastic astronomical event as the moon covered 75% of the Sun. Watchers all looking at it via through specially designed solar viewers, during brakes in the cloud. We managed to get a few pictures of the partial solar eclipse, but sadly the quality is poor, as a result of the atmospheric conditions. Many astronomers and photographers in England joined others all over Europe in saying the same thing, that it had been "very frustrating.". Gerard Gilligan from the Liverpool Astronomical Society said that:- "From my location, sadly it was cloudy up to about 9:15am, when I got a short gap to see the Sun, before the Eclipse finished at about 9:30am." The phenomenon is going to be visible again in January 2028, but this one will see the Sun setting while 60% eclipsed. So not to long to wait...

If you want to learn more about these types of events, why not join The Liverpool Astronomical Society liverpoolas.org
Also do not forget that you can join them at the Ainsdale Discovery Centre on Friday, 7 January 2011, at 7:30pm, where total beginners, amateur astronomers and professional stargazers will get a chance to explore the night sky above the UK as part of BBC Learning's Stargazing Live.
SAFETY NOTE:- Our editor, Patrick Trollope, used a specially designed chromium plated quartz glass solar filter to take the pictures, as using any optical instrument aimed at the sun, without the proper filtration, can cause permanent blindness.