2011 Southport Christmas Lights Get Switched On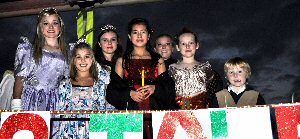 THIS year's Christmas lights were turned on as the Grand Christmas Parade snaked down Lord Street on Sunday, 20 November 2011. Turning the lights on was Everton FC star and England player, Jack Rodwell, who was joined by Miss Southport 2011, Brea Carney-Jones and Miss Teen Southport 2011, Madelaine, The Mayor and Mayoress of Sefton, as well as Pudsey Bear. That's not forgetting Compere Neil Newton, local band Incognito and a 4 year old called Lewis, with his Dad. Throughout the afternoon live entertainment took place on a stage organised by locally based Toucan events. The entertainment ranged from singers to dancers. But all eyes were on the annual parade, which was once again organised mainly by the Champion Newspaper. The parade, as you will see in the photos consisted of several large Christmas floats, Macmillan Nurses' Snowman and Snowwomen, members of Lions, Southport Kidney Fund, Unite Tae Kwon Do, RSPCA, So Talented, The Odd fellows, Baby Ballet, The Marshside School of Dance, Southport Lifeboat and many others. Well done to all who took part.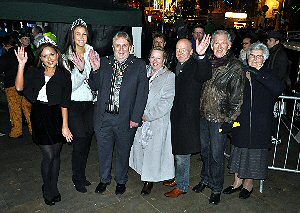 Click on here now to see the rest of our coverage. The photo section also has video on last page!
...2012 EVENTS WANTED...
DO you have any events for 2012? If you do and they are on Merseyside we want to know about them. We are finishing the event listings and want to hear from you. Remember that the sooner we have it the more exposure it will receive. Please email all the information to our newsroom before 1 Jan 2012, via:-news24@merseyreporter.com with your contact information on as well. We will be updating thought 2012 though, so don't worry if you cant!
Audio Copy - (Experimental)

Click here to hear this weeks edition in audio format. Please let us know what you think about it. via emailing us. Also if you have a child who can draw a face, send one in and we will look at using it for our news reader for an edition. Adults can try as well! You will get a copy of the animation sent to you and credit on the animation as well!.

KEEP up-2-date... with our free daily news email service. Are you subscribed?

Si

g

n

u

p

today

to

our daily email news service via... Formb

y

-

Re

p

orter

.com

.

If you subscribed you can keep in up-to-date with what's going on in and around Merseyside. It is free and we do not send out massive amounts of emails. Also your email is kept under the UK's Data Protection Act, so you can be sure that you will not have problems.
Manx
Direct

08447
402 038

2 Years Parts & Labour Worranty