THOUSANDS TAKE TO THE STREETS FOR THE LARGEST LIVERPOOL HALF MARATHON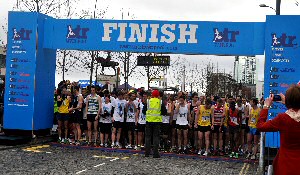 THE 'Born To Run' event was staged on St Patrick's Day,17 March 2013. It was the largest Liverpool Half Marathon in the City since the race started 20 years ago. This fantastic run was enjoyed by local and international visitors, who took part and by those who just watched.

The race was officially started by local, life-long Wirral runner, Eddie Mountford, who turns 90 year old in April. After a long and distinguished career as an amateur runner, it was a fitting tribute to start the 2013 event.

Eddie said:- "I love Liverpool and the atmosphere was fantastic. I have participated in over 30 marathons and the crowds make it special and spur you on. The people who have turned out today for the half marathon will create great energy to support the runners. People from all over the world come to this City for events like this, and when they see it, they take back with them their experience and that's what puts Liverpool on the map, it's wonderful."

The event attracted 8,400 entries with an increase of 800 from 2012, with the furthest travelled participants from Brazil, Canada and New Zealand, and most European countries were represented. The largest contingent was from Ireland, with many celebrating St Patricks Day by wearing fancy dress.

Many charities once again took part to raise much needed funds, including the Oliver King Foundation. Mark King, Oliver's dad commented:- "Its events like this that helps us in raising awareness for our campaign to introduce defibrillators into schools and public buildings across the region. We'd like to thank our runners for taking part and their fundraising efforts along with everyone who has supported us, its been a great day."

As the sun broke through the rain clouds, it was Josh Lilly who claimed 1st place at 01:02:23, followed closely by Tomas Abyu in 2nd and with Bartosz Mazerski in 3rd place. The 1st female was Linda Howell coming in at 01:22:29; Rachael Tewkesbury in 2nd and Margaret Sykes in 3rd place.

A Liverpool marine, Andy Grant, who lost his leg after an explosion in Afghanistan, took part in the race, raising funds for Help The Heroes. Andy said:- "Its been a humbling experience to have experienced so much support from runners and the crowds during the race. I'm delighted to have achieved this personal challenge and made up that I had the opportunity to do it in Liverpool." Andy has already raised £1,700 by participating in the race and he was supported by his partner and 2 children on the finish line. He further remarked:- "It was amazing approaching the finish line, the day has been very memorable."

Alan Rothwell, BTR Race Director, said:- "It's great to see our events program grow and the half marathon has gone from strength to strength. We welcome new runners and it's our aim this year to encourage more people to 'get going,' with the introduction of new events, as well as to encourage more people to have a go at the more challenging races. The feedback from the runners today has been very positive and that the important part, that they enjoy it. It's been a great day."

Also organisers said:- "We would like to thank all the volunteers, along with St John Ambulance, the local Army Cadet Force and Air Cadet Force, Paramount Security and Merseyside Police, as without their help our event would not have been able to take place."
To see the rest of our photograpic coverage, plus some video footage of the event, click on here now!
Did you take part? If you did take part, let us know what you thought of the event by emailing are newsroom today via:- news24@southportreporter.com.
Race entries are already open for the 2014 event and more information about this race along with next year's can be found on:- btrliverpool.com.

KEEP up-2-date
with our free daily news emails.

Are you subscribed? Si

g

n

u

p

today

to

our daily email news service via... Formb

y

-

Re

p

orter

.com

.

If you subscribed you can keep in up-to-date with what's going on in and around Merseyside. It is free and we do not send out massive amounts of emails. Also your email is kept under the UK's Data Protection Act, so you can be sure that you will not have problems.