Battle of the Atlantic Commemoration 70 years on... (BOA 70)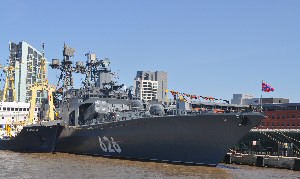 DURING the dark years of the Second World War (WW2), Liverpool played the key role in the struggle to keep supply lines open to sustain our nation. It was in Liverpool that the Command Centre co-ordinated all efforts to protect our brave Merchant Fleet from the deadly, German U Boats. So Liverpool was the obvious choice to act as the focal point for a National Commemorative event, itself selected as marking 70 years from a turning point in the grim struggle which was the Battle of
the Atlantic, the longest continuously running military conflict of WW2.

The theme of BOA 70 is to illustrate the past, present and future of the UK's rich maritime heritage, with particular emphasis on the role BOA 70 veterans; both Merchant and Royal Navy; played in helping overcome the appalling threat that the German U-boats posed to our country's supply lines during the war.

Events began on Thursday, 23 May 2013, when a convoy of ships, Royal Navy, Merchant Navy and representatives of other
countries included Polish, Canadian, Russian and even the Groenitz, a German Mine Hunter, entered port, encountering a hail shower en-route, which hinted at what inclement weather vessels of yesteryear often had had to face over and above the
lurking U Boat menace. The Friday, 24 May and Saturday, 25 May 2013, were days of bright sunshine and the events were able to go ahead unimpeded. The crowd turnout was massive. Unfortunately, the weather took a distinct turn for the worse on Monday and Tuesday.

Over the Bank Holiday weekend, the public were able to see the vessels at their various berths and were even allowed to board many at specific times, including HMS Edinburgh who was returning for one final visit to her birthplace at Cammell Laird Shipyard in Birkenhead, before her imminent decommissioning. Cammell Laird, the quickly recovering ship yard, and a sponsor of this event, played a massive role, both in building, repairing and supporting vessels, throughout the war.

Also, beside HMS Edinburgh, over the Mersey at the Cruise Terminal, were the Canadian Navy ship HMSC Iroquois and the Russian ship, RFS Vice Admiral Kulakov, which allowed visitors at times. Gen T Kosciuoszk, a Polish Frigate and Patricia, a Trinity House Lighthouse maintenance vessel and the only Merchant Navy ship in the formal commemorations were also at the terminal, but not open to the public. HMS Pembroke and German mine hunter, Groemitz were berthed in Canning Half- tide Dock and they also saw their fair share of visitors, whilst ,in the Albert dock were the P2000 RN patrol boats.

On shore, there were a variety of interesting aircraft, vehicles and displays awaiting discovery, and all around were proud veterans resplendent with their hard won medals: there was clear recognition of the role these gallant people and their fallen comrades had played in the defence of the free world but there was no overt bitterness. Indeed, the presence of the German sailors and even of the plentiful Japanese tourists, served to underline the futility of war, just as inevitability of the need to fight evil was acknowledged too. However, the experiences of these veterans, on the whole very reticent about their horrific experiences, must not be forgotten and the lessons learnt must be passed on to inform the future. We learnt that the experiences of one veteran, whose memories are being collated, under the title The Wimslow Sailor, reflecting his birth place. He told us that he has just celebrated his Sapphire (65th) Wedding Anniversary, and had received a card from the Queen. He had served under the famous Captain Walker, the power behind the Command Centre in Liverpool. Also we met wartime Wren, Stella Pussey, who worked at Derby House, and who was meeting up with fellow veterans in the special, temporary Veterans' Centre in The Port of Liverpool Building (the 3rd of the Three Graces at Pier Head). This sponsored centre was open for the whole period of the commemorations, and was formally opened with a ribbon cutting ceremony attended by the Lord Mayor of Liverpool, Cllr. Gary Millar, on his third day of office, who welcomed the new First Sea Lord, Admiral Sir George Zambella DSC, Director of the Seafarers UK, Capt. Barry Bryan, and Dep. Master of Trinity House, Capt. Ian Mc Naught, who had also visited Liverpool as Commodore of the QE2, and Vice Admiral Peter Wilkinson; National President of the British Legion. There was also a picture signing. All spent time chatting to the veterans, who well appreciated the centre as a place to rest, enjoy a chinwag with others and to receive light refreshments, ably supplied by Liverpool Sea Cadets.

The Command Centre itself remains open as a permanent exhibit and museum and is well worth a visit.

On Saturday and Sunday, there was a fly past along the waterfront, by a Spitfire and A Hurricane; dramatic as ever. And a Battle of the Mersey was enacted which involved the Liverpool tug, Brocklebank, playing the role of a pirate ship being boarded by the RN and RM, and involving attack craft and a helicopter. This event drew large crowds each day. Besides the very popular planes, machines and displays of naval paraphernalia, there were many other events included a model boat show. Sea Cadets from Tameside performed skilful aerial manoeuvres on a rigging, and there was Chinese lion and dragon dancing, Indian drummers, robots, and other entertainments; a raft race was scheduled for Monday, and an art installation by Craig Morrison, which comprised 2 high intensity lasers which were projected from the Liver Building, transmitting the message "Thank You", in Morse Code, as a tribute to Alan Turing, who helped crack the Enigma code, thus helping save the lives of many during the Battle of the Atlantic. The Band of the Royal Marines played to a full house in the Liverpool Philharmonic Hall, and elsewhere other Services and civilian bands performed, and popular 1940's music could be heard. Even in Chavasse Park, which was also very busy, we caught a local band finishing its programme with Last Night of the Proms favourites. There were the usual refreshments on offer, but it was great to see the new Cruise Liner Baggage handling facility being used very flexibly as the Typhoo tea rooms! And we must surely have missed much as there was so much on offer.
...continued in other column...
...HAPPY BIRTHDAY...
HAPPY BIRTHDAY ED TROLLOPE
On behalf Carol, Eamon and Alison Happy Birthday!!! - Also Mum, Dad and Patrick wish you a fantastic day.
If you have someone you want to say happy birthday to, for free, then use the email address below to send us the names you want us say happy birthday to, and/or a photograph. Email us today!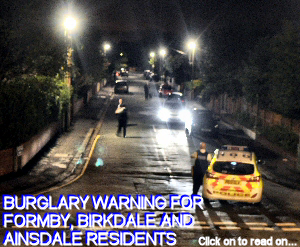 --- MORE NEWS REPORTS BELOW ---

Letters to the Editor:- "USS Iowa in America, (BOA70)"
Zahara joins forces with students from The Liverpool Institute for Performing Arts (LIPA)
English Rising Star To Make Nashville Debut at CMA Music Festival
Mayor slams waste contract decision
HAVE YOUR CAKE AND EAT IT FOR CHARITY
Stars added to Waterfront line-up
Treble winners!
SOUTHPORT GOLFER SHOWS WHO'S BOSS WITH A HOLE-IN-ONE AT HESKETH
Wirral tobacco smuggler sentenced
Action Fund launched to help Lancashire's communities
Merseytravel's new Chief Executive takes the helm
South Liverpool cycling gets safer
Trinidad trade mission to Liverpool
The sky's the limit for Rhys!
St. George's Hall seeks new trustees
BURGLARY WARNING FOR FORMBY, BIRKDALE AND AINSDALE RESIDENTS
Participants required for 'Boom Banger Rally'
Liverpool school is in the running for National Award
FOOTBALLERS FROM SOUTHPORT INVITED TO PLAY IN THE BIGGEST 6 A SIDE TOURNAMENT IN THE WORLD
Bottlenose dolphins may be moving North
MAN ARRESTED FOR POSSESSION OF AN AIR RIFLE IN PUBLIC
Chilly UK seas could be keeping basking sharks away
NORTHERN RAIL TRIUMPHS AGAIN AT HEALTH AND SAFETY AWARDS
Women's Aid welcomes new research which backs compulsory sex and relationships education for all children
Your Transport, Your Say
TRIBUTE KENNY CLARKE, BROTHER OF CLIFFORD CLARKE
BREAK IN AT SANTANDER BANK IN BIRKDALE

BOA 70

- Photo and Video Coverage -

Part 1




...BOA 70 report continued...

Not to be forgotten was the laying of commemorative wreathes at the Merchant Navy Memorial at Pier Head, preceded by a procession involving many nationalities including the Chinese Lion dancers, Indian drummers and troops from the Polish community, representing the nationalities which made up crew on merchant and royal navy vessels.

On Sunday, a Service of Remembrance took place at Liverpool's Anglican Cathedral, attended by HRH, the Princess Royal, after which there was a parade, including platoons from the Merchant Navy, the Royal Fleet Auxiliary, and Regulars, Reserves and Cadets of the Royal Navy, Army and Royal Air Force.

The final scenes we have captured are of the Kulakov and Groemitz leaving the port and of the departure of the final 11 ships as they sailed out into Liverpool Bay, on a very gloomy, Tuesday afternoon, escorted to Perch Rock by 2 Mersey ferries and followed, at length, by the diminutive Patricia, the Trinity House supply ship.

The whole atmosphere of the 4 day commemoration was one of calmness and friendliness: there was much of general interest, but it also served its expressed purpose of reminding subsequent generations of the debt we all owe to all those involved in the Battle of the Atlantic. This was, thank goodness, definitely not a jingoistic, nor a sabre rattling exercise, but still subtly managed to convey its message, and also reminds us of the role left to play by today's naval services.

Congratulations to all who played a part in this BOA70 Commemorations. Liverpool has proved yet again its capability in hosting international events and we consider, has represented the UK well.

To see Part 1 of our photographic and video coverage, please click on here now.

Email our newsroom to:- news24@southportreporter.com with your views on this event and let us know what you though about it...

____________________________________

| | | |
| --- | --- | --- |
| | Click on to read on! | Click on to read on! |

KEEP up-2-d

ate




with our free daily news emails.



Are you subscribed? Si

g

n

u

p

today

to

our daily email news service via... Formb

y

-

Re

p

orter

.com



If you subscribed you can keep in up-to-date with what's going on in and around Merseyside. It is free and we do not send out massive amounts of emails. Also your email is kept under the UK's Data Protection Act, so you can be sure that you will not have problems.