47th WLYC 24 Hour Race
Photograph by Patrick Trollope.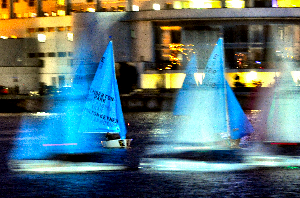 THE 47th West Lancashire Yacht Club's 24 Hour Race took place on the relatively safe waters of the Marine Lake, Southport, Merseyside; starting 7 September 2013 and ending at 12 noon, on 8 September 2013. It was extremely well attended and highly competitive. This year's event, as usual, attracted teams from all over the UK, and again received visitors from Eire, France and even the USA... From the outside the event may look very boring, but for the teams it is certainly no gentle pastime! It is now regarded as one of the hardest endurance races in the world for the sport, in craft that are not designed to sail for that long. It is no wonder that it has, in the past, attracted Team GB members who used it for training. In fact, this year it was officially rated in the sailing community and is in the top 10 events in world for sailing! Taking to the water were Enterprise and GP14, Lark class craft, but this year also saw the return of the Firefly class.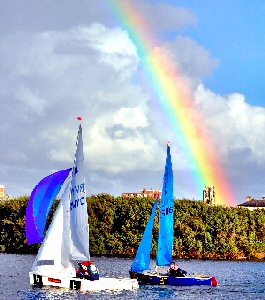 This year's crews though, had to deal with extremely changeable weather conditions, keeping them guessing as to what the weather would throw at them. Surprisingly, this year there were not as many capsized craft though out the race, but the safety boats and marshals, provided by Southport Offshore Rescue Trust (S.O.R.T.) along with the Southport District Scouts were always present. The Scouts also provided additional camping facilities and hot food at the District Scout Headquarters, Waterside Lodge. Most teams who take part do not have crews who sail the full 24 hours, as crew members on the 2 man boats, can be relieved and change over, as can the dinghy's equipment and sails, but only in a specially designated docking area. But some teams taking part did not have any changeover of crews! Those craft's crews had had to battle not only with the monotonous circuit and the changing conditions, the damp and cold, but also with sleep deprivation!

The overall winners of this year's unique dinghy endurance race were South Staffs S.C. (angel), whose large team took shifts throughout the full 24 hours. But a massive well done should go to two of the newest members of an elite 24hr Race Club, Sam and Ed, who completed the full 24hr Race without a change over. The sailors from Wolverhampton had done it to raise funds for the RNLI and now join the ranks of the few who have managed to successfully complete this test of endurance.
To see Part 1 of our photographic coverage please click on here and for video footage please click on here.
If you took part or have any views on this race please email our newsroom to:- news24@southportreporter.com and let us know your thoughts.

To find out more about the race and to get the results go to:- 24-hour-race.wlyc.org.uk
B.O.A. 70th Anniversary DVD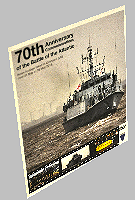 THE video footage we have taken at the 70th BOA events this year in Liverpool has now been fully edited is available to buy, on a DVD, from our Online Shop, on Mersey Reporter very soon. For each DVD sold, £3.00 will go to the Liverpool's Lord Mayor's Charity Appeal. (Registered Charity No. 229539) At this stage we can only do UK postage options, but if you are outside the UK, you can still order copies, but only by emailing us to:- news24@merseyreporter.com with your FULL address and we will get back to you with a postage cost and a payment link, should you wish to continue.
...HAPPY BIRTHDAY...
If you have someone you want to say happy birthday to, for free, then use the email address below to send us the names you want us say happy birthday to, and/or a photograph. Email us today!