CRIME & GUN BANS.
Report by Eric Lyon-Taylor and Photographs by Patrick Trollope.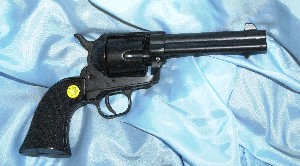 HERE we go gain, trying to ban something because it was involved in someone death. Knee jerk reaction time, or is it election times near, vote winner. Whatever, two girls are shot dead over the weekend and two others are injured, and my condolences to their families but banning something won't make it go away, however much we want it too.

The government are asking why gun crime is on the increase, well it's simple really, you are making guns much more attractive by banning them. After all tell a child not to do something and the first thing they do is try it, same thing here, your telling a whole generation not to go
anywhere near guns and that doing so makes you a criminal, and so they do, it makes them feel bigger and makes them feel like part of a gang, or group. Also there appears to be some peer pressure involved in the gangs, if you have a gun and don't use it your just a poser, so consequently you get gangers starting to prove their worth to their fellow gang members by using the guns they previously only carried for show.

As it happens the government aren't actually banning replicas and air weapons they are banning there being carried on the streets without due reason, which I actually agree with. This will stop kids trying to look good in front of their friends, which will inevitable lead to going into a gang.

The thing that amuses me, is that in 96-97 they banned handguns saying that this would stop another Dunblaine, and armed crime will drop, but in actual fact it's increased by a third this year alone, and as far as my information tells me a third from when they banned them in the first place. If you look at the figures around 10000 armed crimes have been committed over the last year, almost 6000 of which were with handguns, which means the ban has done nothing to decrease armed crime. If anything it's increased it as it was driven underground and into the criminal world.
People in this country are terrified of guns! This means they overreact whenever a crime with a gun is mentioned......